Malaga and Granada are only 149 kilometers apart, and you can easily travel from one city to another in less than two hours by land. If you're vacationing in Malaga, you can easily catch a train to Granada for a quick day trip. One of the benefits of a train ride is that you get to travel comfortably while seeing picturesque landscapes along the way. In this article, we guide you through the steps involved in a train journey from Malaga to Granada.
1. Malaga to Granada Train Route
Granada and Malaga are two enchanting cities located in the picturesque Andalusian region of southern Spain. Each city boasts its own distinct character, history, and attractions. These characteristics have made them sought-after destinations for travelers looking to experience the rich tapestry of Spanish culture and natural beauty.
There are multiple transportation choices for your journey from Malaga to Granada. You have the flexibility to drive, use ridesharing services, opt for a taxi, board a bus, or embark on a train journey. Of these options, the train ride stands out for the level of convenience, comfort, and fun that it offers.
A train trip from Malaga to Granada covers 165 km and takes approximately 1 hour and 18 minutes. This route takes you through the heart of the Andalusian countryside, offering picturesque views of rolling hills, olive groves, and charming villages. This destination provides a wealth of activities to enjoy throughout the day, and you can also experience Granada's vibrant nightlife, or get a sense of the local food with Granada Tapas Tour. For a more unique experience, you can join a Granada pub crawl where local guides will show you the best places to party in the city.
2. Booking Malaga to Granada Train Tickets
Booking a train ticket for your trip from Malaga to Granada is a simple procedure, with several options available to suit your convenience and personal preferences. There are 21 trains that run weekly, but these may vary during holidays and weekends, so it is better to book your ticket in advance. Here's a step-by-step guide on how to book your train ticket for this journey:
2.1. Online Booking
To secure your train ticket from Malaga to Granada, explore online platforms specializing in ticket sales. Follow these steps for a smooth booking experience:
1. Search for booking websites online.
Begin by using your preferred search engine to find websites that offer train tickets for the Malaga-Granada route.
2. Input your journey details in the search option.
Utilize the search tool on the chosen website to input your departure point (Malaga) and your destination (Granada). Specify the date and time you intend to travel.
3. Explore the available train options.
Browse the list of available train options, paying attention to different classes and departure times. Evaluate the schedules and amenities to select the one that best suits your travel plans.
4. Choose your preferred train class.
Click on the specific train you wish to book, and indicate your preferred seating class (commonly Turista or Preferente).
5. Provide the necessary personal information.
Fill in your personal information, including your name and identification details. Double-check your entry to ensure that the details and spelling are accurate.
6. Review and confirm your booking.
Carefully review the details of your booking, ensuring that the chosen train, class, and passenger information are correct. Finally, confirm the details of your booking before proceeding.
7. Proceed with payment.
Select your preferred payment method, and follow the platform's payment instructions to finalize your transaction.
8. Complete the booking.
Conclude the booking process by successfully completing the payment. You should receive a booking confirmation via email.
9. Collect your ticket.
If you've opted for a physical ticket, arrange to collect it at the train station before your departure. Alternatively, consider using e-ticket options if available for added convenience.
2.2. Boarding Preparations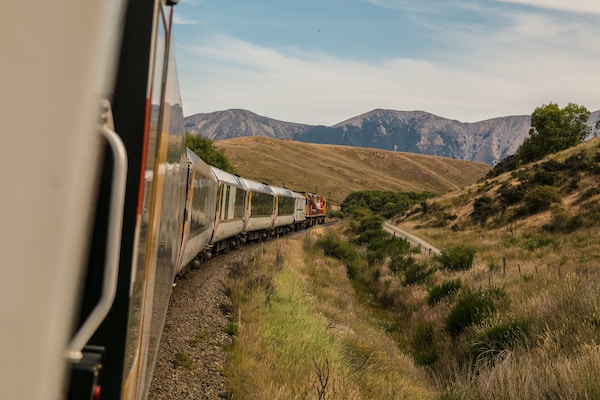 Arrive at the Malaga train station with sufficient time before your scheduled departure. Ensure you have your ticket (whether physical or electronic) and valid identification when you're ready to board the train. Always review the platform's terms and conditions and make reservations well in advance to guarantee your seat, particularly during peak travel seasons.
2.3. Tips to book cheaper rates and discounts
Combine these strategies and stay alert for deals and discounts. This way, you can find more affordable fares for your trip from Malaga to Granada. This will make your journey not only enjoyable but also cost-effective.
1. Book in advance.
Typically, train tickets from Malaga to Granada cost around €23. However, this may vary if you are able to avail discounts from booking in advance.
2. Join loyalty programs.
Certain train operators provide loyalty programs and membership discounts. Check if you can avail of or join such programs to earn rewards for exclusive discounts.
3. Book round-trip tickets.
Frequently, round-trip tickets come at a more affordable price compared to purchasing two separate one-way tickets. If you're certain about your date and time, consider this option.
4. Avail of special discounts.
Check if you qualify for any special discounts, such as youth, senior student, or family fares. Also, inquire about discounts for large groups. Group booking discounts may be available for parties of a specific size.
5. Inquire about combo deals.
Check if your accommodation or other local businesses in Malaga or Granada have partnerships with train operators that offer discounts to their guests.
6. Watch out for promotional sales.
Keep an eye out for promotional sales and special offers, which train companies may periodically announce. You may also check if travel passes have discounts to offer for your trip. Subscribe to their newsletters or follow them on social media to stay updated.
7. Use fare comparison websites.
Websites and apps like Trainline, Omio, and Go Euro can help compare fares from different train operators and booking platforms to find the best deals.
Most travelers from Malaga to Granada opt for Renfe for their train tickets. A total of five trains leave Malaga to go to Granada every day, starting from 9:00 until 20:30. Note that three of these trains leave before 9:30, and there is only a 15:30 train in the midday. There are also six trains that come back from Granada to Malaga, starting at 6:30 until 19:00.
Renfe also offers a Spain Pass for travelers who choose trains as their main transportation. Visitors can choose among 4, 6, 8, and 10 passes and can use this pass at any Renfe line they want. The company also offers a Plus 10 card, which offers 10 round trips or return trips between two stations.
3. Malaga Maria Zambrano Train Station
Malaga Maria Zambrano Train Station, often known simply as Malaga Train Station, stands as a significant transport hub situated at the core of Malaga. This modern and bustling train station serves as a major gateway to the wider region of Andalusia and is well-connected to various Spanish cities, making it a vital transportation center for both domestic and international travelers. The primary station at ground level serves express and Media-Distancia trains traveling to and from Malaga. Meanwhile, the lower-level station is dedicated to local 'Cercanias' trains and the metro system which is named "El Perchel."
Malaga Train Station is a central hub for Spain's high-speed AVE trains, making it a crucial point of access to cities like Madrid, Barcelona, and Seville. Additionally, it offers connections to other parts of Andalusia, with regular services to Granada, Cordova, and beyond. It also houses a variety of shops which are open from 10:00 a.m. to 10:00 p.m. There are also boutiques, cafes, and restaurants, providing travelers with options for shopping, dining, and relaxation.
The station is well-equipped with tourist information desks and services. These serve to help travelers find their way around the city and provide information on local attractions, events, and accommodations.
In either direction, traveling between Malaga María Zambrano Train Station and the city center is hassle-free and uncomplicated thanks to the station's central position. Here are the details on how to access the station from the city center and return:
3.1. Walking
If you find yourself in the city center, you have the option to walk to the station. The station is situated around a 15 to 20-minute stroll from the heart of Malaga. Just follow the signs for the train station, and you'll arrive at your destination.
3.2. Taxis
Taxis are easily accessible all over the city. A short taxi ride of approximately four to five minutes from the city center (3.1 km) to the train station is a convenient option if you have luggage or prefer not to walk.
Take note that taxi fares vary depending on the tariff schedule. Tariff 1 runs from 6:00 a.m. to 9:00 p.m. and has a base fare of €1.55, while a taximeter per kilometer costs around €0.86. On the other hand, Tariff 2 runs from 9:00 p.m. to 6:00 a.m. It has a base fare of €1.89, and the per kilometer cost is €1.06.
3.3. Bus
Malaga's public bus system is well-connected, and there are bus routes that stop near the train station. You can easily identify bus lines that include the station on their route, or consider taking advantage of the Malaga Metro, which also offers a stop at the station. Bus fare costs €1.40 and travel time is around seven to 10 minutes. Buses are available all week even during holidays.
4. Granada Train Station
Granada Train Station is referred to as "Estación de Granada" in Spanish and stands as a vital transport center situated in the historic core of Granada, Spain. This station connects Granada to the broader railway network of Spain, making it a key point of entry and exit for travelers exploring this enchanting region of Andalusia. It is strategically located near the city center, granting travelers easy access to the historical sites. The station provides tourist information services to assist travelers in planning their journeys, exploring local attractions, and finding accommodations.
Inside the station, passengers can find an array of shops, boutiques, cafes, and restaurants that offer a range of dining and shopping options. If you want a taste of authentic Andalusian food, feel free to join Granada tapas tours where you will learn the history of true Spanish tapas and try the best ones with wine.
The station offers both domestic and international train services from Granada to other Spanish cities, and to European destinations. It is well-connected to various Spanish cities, including Madrid, Barcelona, Seville, and Valencia, primarily through the high-speed AVE trains. This makes it an important transportation hub for both domestic and international travelers.
Navigating between the Granada Train Station and the city center is a convenient and well-organized process, and travelers can easily move between these two key points. There are four ways to get to and fro the Granada station and the city center.
4.1. Walking
The Granada Train Station is situated at a manageable distance from the city center, typically a 20 to 25-minute walk. It's a pleasant stroll through Granada's charming streets, making it an enjoyable way to reach the station.
4.2. Taxi
Taxis are available at the station's taxi stand, allowing you to easily reach any destination within the city center or beyond. This can be convenient for those who have luggage. The taxi ride is approximately seven minutes and costs around €6. Take note that an additional fee is applicable for luggage: €0.51 for every suitcase or bag surpassing the 60 cm limit.
4.3. Bus
The city's public bus system connects the city center with the train station. Look for bus routes that pass through the station, and consult bus schedules for an efficient way to travel. The train station's lower level houses a bus station, providing access to various bus routes that can transport you to different parts of the city center. The bus fare costs €1.40 and children below four years old are free of charge.
4.4. Tram
The travel duration between Granada Station and the City Center lasts approximately 23 minutes, covering a distance of roughly five kilometers. This service is operated by Metropolitano de Granada, commencing its journey from Granada – Estación de Autobuses and concluding in the City Center. Travel cost €1.35. You may pay via cash or use a travel pass.
5. During Your Journey from Malaga to Granada
The journey from Malaga to Granada by train is a delightful experience, offering travelers the opportunity to explore the scenic landscapes and cultural gems of Andalusia. As the train departs from Malaga and heads towards Granada, passengers are treated to picturesque views of the Andalusian countryside. Throughout the journey, you'll come across gentle hills, verdant olive orchards, and delightful rural villages.
While both sides of the train offer beautiful scenery, sitting on the right side (facing forward) often provides the best views. Passengers on this side of the train are usually treated to more sweeping panoramas of the countryside, with a particularly impressive view of the majestic Sierra Nevada mountain range.
5.1. Food and Drinks
You have the option to purchase and savor meals, snacks, and beverages from the onboard cafeteria within the train. However, those with specific dietary preferences or budget travelers can bring their own food and refreshments. This practice is generally applicable to many long-distance train journeys in Spain.
5.2. Luggage
If you're planning an extended stay in Granada and have bulky luggage, it's essential to understand the train station's rules about extra charges, luggage size, and weight. When traveling from Malaga to Granada, you can bring larger bags, but there's an additional fee. Your oversized luggage must not exceed 85x55x35 cm (height-width-depth) and should weigh no more than 25 kilograms.
You can pay €10 when booking your ticket or €15 after purchasing it up to 30 minutes before your train departs through any of our sales channels. In the last 30 minutes before your train departs, you can add extra luggage at the boarding control point for €30.
5.3. Pets
If you're bringing your pet on a train journey in Spain, be sure to follow these guidelines. Typically, dogs, cats, or birds are allowed as long as they are in a carrier or on a leash. Also, don't forget their vaccination records and passports. Some may require your pets to have an implanted microchip. It's important that your pets are accustomed to training travel, leashes, or being in a carrier to avoid stress or inconvenience for other passengers.
Each person can bring one pet, and the pet's weight should not exceed 10 kilograms. The pet ticket costs 25% of the regular ticket price. Pets weighing up to 40 kilograms may be allowed on commuter trains but are not allowed on high-speed trains(AVE), or international, mid, and long-distance train travel. It is essential to check the specific pet policies of each train before you travel with your furry friend.
6. High-Speed Train vs. Other Transportation Options
Traveling from Malaga to Granada offers a range of transportation choices, each with its own advantages and considerations. Among these choices, high-speed trains are renowned for their rapid transit times. The journey from Malaga to Granada via high-speed train is notably swift, typically taking around 1.5 to two hours. Trains are generally more eco-friendly and emit fewer carbon emissions per passenger compared to cars or planes.
These trains often provide a comfortable and spacious environment that's complete with amenities like Wi-Fi and dining services. These ensure that passengers can unwind and truly savor the journey. The scenic train route through Andalusia's picturesque landscapes can be a captivating experience, especially when you secure a window seat. Nevertheless, it's important to be aware that the high-speed train option may be expensive compared to other modes of transportation with ticket costs averaging around €23.
Buses, on the other hand, offer a budget-friendly way to travel. Taking the train from Malaga to Granada can take around 2.5 to three hours by bus. While it may be slower, it can be an economical choice.
For those who prefer flexibility and exploring the region at their own pace, renting a car or driving your own vehicle are great options. The drive typically takes around 2.5 to three hours, depending on traffic and stops.
While flying to Granada is quick, the time spent at the airport, security, and transfers can make it less time-efficient than a train ride. Also, there are limited flight schedules compared to trips from Malaga to Granada.
Plane tickets are more costly compared to train tickets. High-speed trains can be more expensive, while buses are often the most budget-friendly choice. Driving costs depend on factors like fuel, toll fees, and the cost of a car rental.
7. FAQs (Frequently Asked Questions):
1. What is the best route from Malaga to Granada?
The best route to go to Granada from Malaga depends on your chosen mode of travel. For the high-speed train or bus, it's usually a direct route. If you're driving, take the A-45 highway, Alternately, if you like scenic drives, consider the A-357 and A-369. Flights are also an option, taking about an hour, not counting the travel time to the airport.
2. How far is Granada to Malaga?
The road distance between Malaga and Granada is roughly 131 kilometers (approximately 81 miles) which approximately takes 1 hour and 30 minutes to travel. Please note that the precise distance might vary based on the particular route and transportation method chosen. If you opt for the train or an alternative mode of travel, the distance may differ, but the road distance is a frequently used point of reference.
3. Can you go on a day trip from Malaga to Granada?
Yes, you can take a day trip from Malaga to Granada. You can see some of the main attractions like the Alhambra in a day. However, it's essential to plan your day carefully, as time is limited. The train or bus ride between the cities is quite fast, making a day trip possible.
4. How long does Malaga to Granada take with a high-speed train?
The high-speed train ride from Malaga to Granada usually lasts between 1.5 to two hours, providing a swift and effective means of travel between these two cities. However, travel times may vary slightly depending on factors such as the specific train service, route, and stops along the way.
5. How much is the train ticket from Malaga to Granada?
Generally, the ticket train from Malaga to Granada costs €23. However, the price of a train ticket from Malaga to Granada can vary based on factors like the type of train service, class of seating, time of booking, and availability.
6. Is Granada worth visiting?
Yes, Granada is a must-visit destination. It's famous for the Alhambra, historic neighborhoods, and the Sierra Nevada mountains. You can savor free tapas, experience Flamenco music and dance, and soak up a mix of history, art, and natural beauty.
7. Is Granada close to Malaga?
Yes, Granada is relatively close to Malaga. The distance between the two cities is approximately 131 kilometers (about 81 miles) when traveling by road. When opting for the high-speed train or bus, the typical travel time falls within the range of 1.5 to two hours, making it a convenient and manageable trip for a day excursion or a longer visit.
Read our guide to the Best Markets in Granada to get insider tips on where to buy unique food and crafts. Alternatively, check out the Best Beaches in Malaga to scope out your vacation spots around this city.
If you are looking for more information on the city, you can take a look at Malaga's official Tourism website or plan out your transportation route by reading about Malaga's Metro Lines.