In my opinion, greek food is one of the world greatest cuisines. The variety of food you can get in Greece is incredible. It has something for everyone. I will show you the top 10 dishes you should try in Greece.
Souvlaki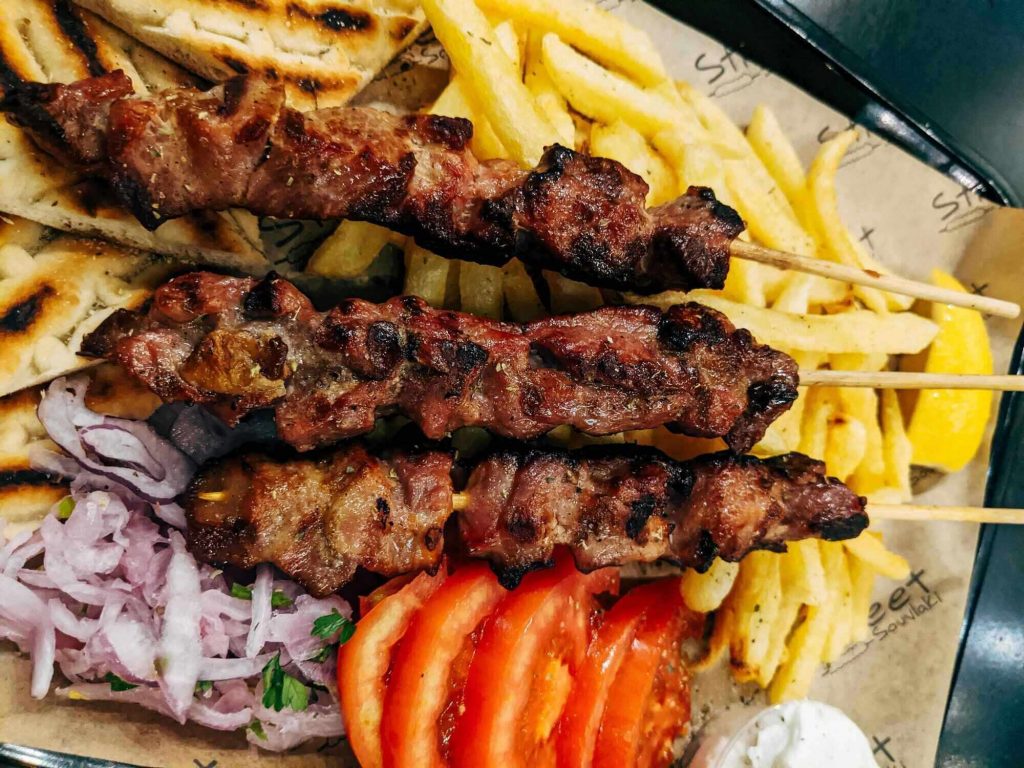 Souvlaki is made out of little pieces of meat on a stick. Usually, pork, lamb, or chicken, marinated in salt, pepper, oregano, and lemon juice. Traditional restaurants are cooking the sticks on the BBQ. Apart from restaurants, you will also find Souvlaki in places like food trucks as a fast-food snack. Furthermore, you usually have bread, pita, or fries with your Souvlaki.
Tzatziki
In addition to bread and fries, Tzatziki is a common side dish that you eat with your Souvlaki. It's a refreshing mixture of yogurt, cucumber, garlic, and olive oil. Also, Tzatziki helps your body digest the grilled meat which might be heavy on your stomach.
Dishes you should try in Greece: Moussaka
Moussaka is a well-known specialty of Greek cuisine and also one of the dishes you should try in Greece. First of all, meat, potatoes, and eggplants are separately minced. After that, you top everything with bechamel sauce and put it on a baking dish. Before you can serve it, the Moussaka needs to stay in the oven for a while.
Bifteki
Bifteki is my favorite greek dish. It is more or less a big burger patty filled with goat cheese. It is not in a shape of a patty, it looks more like a stake. Furthermore, you usually get Tzatziki, rice, bread or fries with your Bifteki.
Saganaki
Saganaki is a famous starter in the Greek cuisine and also one of my favorites. It's buttered deep-fried cheese served with lemon. A lot of restaurants are using Feta cheese for their Saganaki. The traditional way to make it is with a certain type of hard cheese.
Dishes you should try in Greece: Melomakarona
For a change, I want to show you a traditional Greek sweet. Melomakarona is an egg-shaped, honey-soaked cookie that people are baking at Christmas time. It's also not that difficult to make. Furthermore, it's bad luck if a Greek family doesn't bake the cookies at Christmas time. That's why you will find Melomakarona in every Greek family's house and the shops.
Gemista
Gemista is a dish that you can make in different ways. Usually, restaurants are using peppers, but you can also use beef tomatoes or zucchini. You stuff the pepper with a mixture of cooked rice, onions, herbs, and the vegetable itself. After this you put it in the oven and let it bake for a while. Restaurants serve them cold and warm.
Dishes you should try in Greece: Dolmadakia
Dolmadakia is vine leaves stuffed with rice or mince. Originally from Turkey, but Greek people were the ones that have introduced the stuffed vine leaves to the world. Dolmadakia is the perfect starter and definitely one of the dishes you should try in Greece.
Olives and olive oil
If you're going to Greece you should try original Greek olives. Usually, Greek restaurants give you some olives and bread as an appetizer, so you don't even have to ask for it. Also, the Greek olive oil is definitely something you have to try while you're in Greece. In addition to this, just order a classic Greek salad with tomato, feta, and onions and enjoy the taste of the olive oil.
Fresh fish
As Greece is located by the sea, they have a wide variety of tasty and fresh sea food. You should try the red mullet, it is a Greek delicacy.
Read our article about the top 5 places you should visit in Amsterdam.