We all know Vienna as the magnificent capital of Austria, which attracts tourists from all over the world throughout the year. This is a metropolis with a unique charm, energy, and atmosphere. The historical center of Austria is included in the UNESCO World Heritage List. This city has a huge cultural and historical heritage, and therefore is one of the cultural capitals of Europe.
Tourists come to Vienna, first of all, to see with their own eyes the amazing monuments of the past. Every traveler considers it his duty to visit the Hofburg Palace, Palace Square, St. Stephen's Cathedral, the Belvedere palace complex, and the Ring Boulevard. Vienna is also a city of music and art, gathering talented people from all over the world. Brilliant composers once lived and worked here: Mozart, Beethoven, Schubert, and Strauss, as well as many famous artists who turned the city into a treasury of Europe. But, in addition, Vienna is also an ideal city for gastronomic gourmets.
Vienna's cuisine
A vacation in Vienna is unthinkable without tasting local dishes. Vienna's cuisine is also one of the attractions of the city. Vienna is the only city named after its own style of cooking – Viennese cuisine. The national cuisine of Austria has absorbed many recipes from different peoples of the world – Germans, French, Poles, Italians, Czechs, Hungarians… But at the same time, it remained original and unlike the others.
There are several Austrian dishes that are the hallmark of the country's capital. In Austrian restaurants, you can taste the best national dishes: traditional Austrian meat pie, Melbourne chicken, Viennese schnitzel, the famous Sachertorte, veal chop, schinkenfleckern (noodles with ham), cheeses, and the local Heuriger wine. In our article, we will tell you in more detail about the dishes that you definitely should try in Vienna.
1. Dishes to try in the Austrian capital: Wiener Schnitzel
The Wiener Schnitzel is one of the country's business cards. It is a very thin chop of a large size (often exceeding the size of a plate) in breadcrumbs made of flour, eggs, and breadcrumbs. The peculiarity of the Viennese schnitzel is that the Austrians never cook it from pork (only juicy veal) and never fry it in vegetable oil (only butter or melted pork fat. Austrians usually serve Viennese schnitzel with salads – green, vegetable, or potato, French fries, or just fried potatoes. The dish is served with a slice of lemon, a sprig of parsley, or a green part of celery.
Where to try the best schnitzel in Vienna:
Figlmüller (Wollzeile 5 и Bäckerstraße 6);
Schnitzelwirt (Neubaugasse 52);
Gasthaus Kopp (Engerthstrasse 104).
2. Dishes to try in the Austrian capital: Wiener Erdäpfelsalat
Potato salad is a traditional side dish for Wiener Schnitzel. In the original Austrian recipe, boiled potatoes are seasoned (or marinated) with salt, vinegar, onion, parsley. Viennese potato salad is very tasty on its own, but with Wiener Schnitzel it is just perfect.
Since potato salad is often served with schnitzel, it is included in the total price. But you can also try Erdäpfelsalat as an independent dish, for example, in these restaurants:
Wiener Wiaz Haus (Gusshausstrasse 24);
Gasthaus Pöschl (Weihburggasse 17).
3. Dishes to try in the Austrian capital: Tafelspitz
Many people fall in love with this one legendary Viennese meat dish. Tafelspitz is a boiled beef rump with vegetables and broth. In restaurants, Austrians serve it with grated horseradish, fresh bread, and applesauce. However, sometimes applesauce is replaced with potatoes. It's also delicious, but if you want to try a classic combination, choose an institution where it is served with an apple. The meat literally melts in your mouth after 5 hours of cooking — and this is the main secret of the tafelspitz. In addition, portioned pieces of beef after cooking have a pointed shape. As a side dish, string beans in a creamy sauce with herbs are ideal.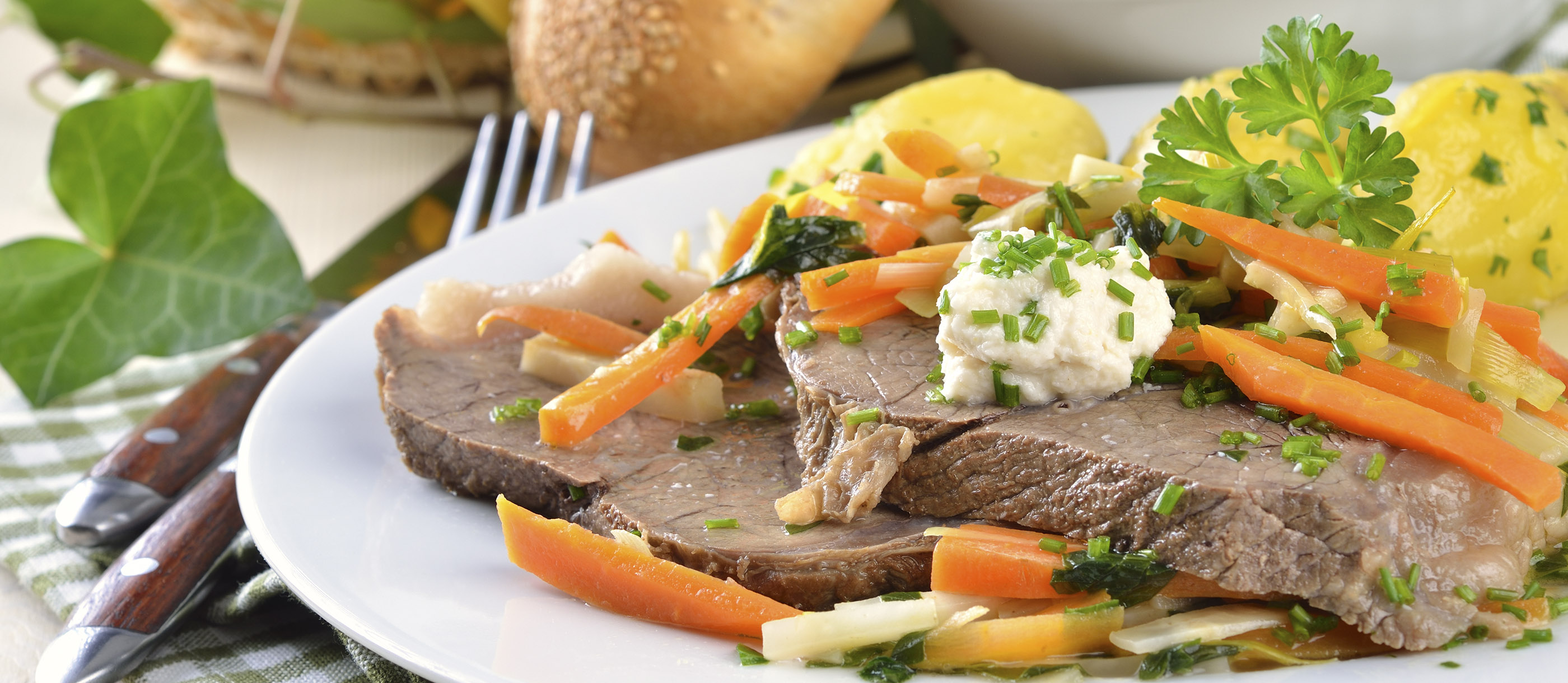 4. Wiener Rindsuppe
Beef soup is so popular in Vienna that Austrians even call it the "king of the dining table" here. For its preparation, Austrians use pieces of beef on the bones, fried onions, vegetables, sometimes mushrooms, or other ingredients. Very tasty soup at a very reasonable price you can eat in:
Die Metzgerei (Linzerstrasse 179);
Ofenloch (Kurrentgasse 8);
Steman (Otto-Bauer-Gasse 7);
Stephan Die Gastwirtschaft Mit Bar (Schönbrunner Strasse 98).
5. Apfelstrudel
Apple strudel is the simplest traditional dessert in Austria. In its classic form, it is apple, but it can be sausage, potato, milk-cream, sugar, cabbage. In modern Viennese establishments, Austrians make it with cherry or apricot filling and serve it with a ball of ice cream or cream. But in places like Demel or Cafe Central, the strudel can only be apple. If you are lucky enough to be in Austria, be sure to try this national dish, which has become famous all over the world.
6. Sachertorte
Since we're talking about desserts, it's impossible not to mention the world-famous Sachertorte. In 2022 it will be 190 years since the invention of the Vienna cake. The novice pastry chef Franz Sacher, who was practicing at the court pastry shop, accidentally developed the recipe for the future masterpiece. Chocolate biscuits, combined with apricot jam and poured with icing, did not impress the Austrian court at first. But the 16-year-old continued to work on the cake and experiment with the ingredients. The heir of Franz Eduard was able to bring the cake to perfection, making it the most famous in the world.
7. Wiener Kaisersemmeln (Viennese royal bun)
If you are curious about what you can eat in Vienna from pastries, then pay attention to the "royal bun". It is believed that it owes its name to its shape, which resembles a crown. This is the most popular breakfast food in Austria. In many cafes you can try many variations of it: stuffed with marmalade and butter, cheese, ham (Leberkäse and Beinschinken), and many Austrians like to eat Handsemmel with turkey or schnitzel.
Where to try a Wiener Kaisersemmeln:
Café Diglas (Wollzeile 10 and Fleischmarkt 16 etc.);
Felber (Wollzeile 23, Tuchlauben 11, Herrengasse 6-8 etc.);
Leberkas-Pepi (Operngasse 12);
Strock (Rotenturmstrasse 6, Schwedenplatz 2 etc.).