So you decided to visit Malaga and experience everything this beautiful city has to offer. Maybe you're not a person who enjoys going clubbing or partying that much, or maybe you tried all these and you need a change. No matter what, you're in luck! Malaga is a city that has a lot to offer to every type of tourist that decides to visit. If you consider yourself more of an adventure seeker, we couldn't recommend you enough to take advantage of the amazing sea of Malaga. You should try some of the best water activities in Malaga and its province once you're here. You can read about them in detail in this article!
1. One of the most popular water activities in Malaga: Jet Ski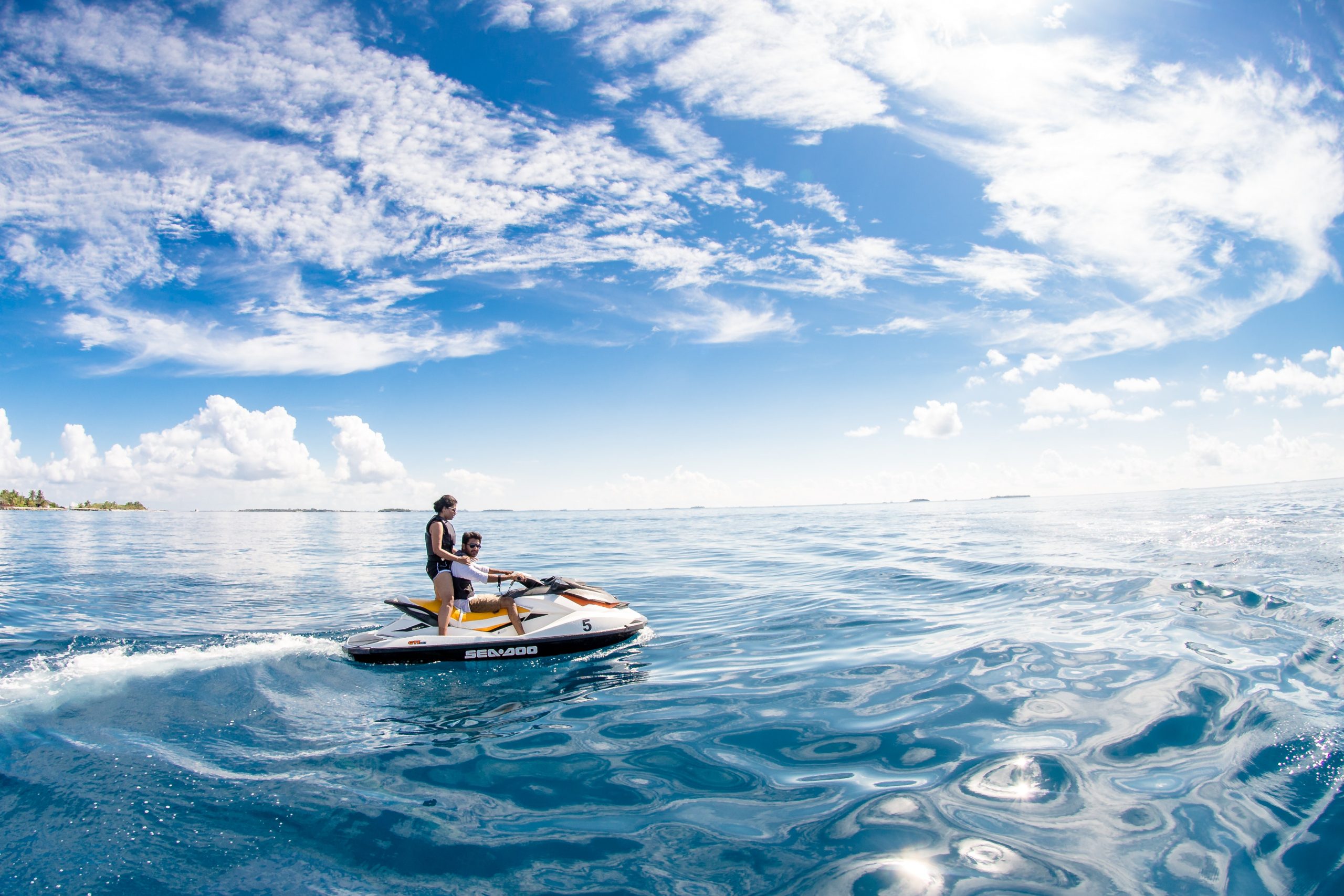 In case you didn't know, Jet Ski is one of the most popular water activities in the region of Malaga. Thanks to the beautiful beaches, you'll have the chance to try it in many different places around here. Why not grab some friends and look for an experience like this? Malaga, especially in the warmer months, is the perfect place to try something new. The sun is shining and a lot of tourists, as well as locals, want to try new things.
What if I have no previous experience?
Jet skiing is really enjoyable. A lot of people try it here for the first time and do it again and again. This applies to everything you will read about in this article. You are not required to have any experience as there are people who can help you get you to the jet ski. We can guarantee you will have an amazing experience full of adrenaline and fun. Take it easy at first, and soon you will be able to ride the jet skis like a pro.
Where can I try Jet Skiing?
You can ride a Jet Ski in Estepona, Benalmadena, and in Marbella.
2. A cool water activity in Malaga: Banana boats
You might not have thought about it, but yes, banana boats are available in Malaga and it's quite fun! You don't need to have any previous experience as all you have to do is sit in a banana-shaped float which is dragged by a boat.
Take your friends with you
It is definitely way more entertaining to race one another. Also, it's usually cheaper to do it as a group. The only thing you need to keep in mind is to hold tight while you're on the float, as you might fall into the water. Or if you're particularly mischievous, you might be thinking of overturning your mate's boat! No harm done though, you'll pick them up and you can go on with your ride. This is one of the best experiences you can have and we can guarantee you'll laugh with your friends about it for a long time afterward.
Where can I try the banana float?
You can find it in Marbella, close to Malaga or check out the local beaches for more info.
3. Kayaking
Kayaking is another exciting sport you can try in the province of Malaga. You might not find it in the city of Malaga, but you only have to go to beautiful Nerja to find it. Nerja is an idyllic location very close to the city of Malaga and you can go there by bus. There are lots of kayaking experiences you can choose from and lots of places to see around the region. There's always a local guide in these experiences, they will make sure you're okay and that you're having the time of your life. Not only will you have the chance to visit new places and meet new people, but you'll also get to move your body as kayaking is a great way to exercise while having a fun time.
Are you interested in visiting more places in Nerja? Check out our blog post:
Take an Unforgettable Trip to Nerja.
4. Big stand up and Paddle Surf
This article wouldn't be complete without mentioning surfing as part of our favorite water activities. Malaga is a great place to have a surfing experience, whether you're a beginner or a more experienced surfer. The waters are ideal for this kind of sport and you can always grab a board and try surfing along with your friends when the weather is nice.
One of the best water activities you can do in Malaga
You can find lots of experience opportunities both in Malaga and the surrounding regions. When the conditions allow it, you can even try surfing on Malaga's famous beach, La Malagueta which is very close to the city center. If you're interested in discovering new places in the region you can look for opportunities in El Palo,  Benalmádena and Vélez-Málaga.
5. Try scuba diving and discover hidden treasures 
What's more exciting than getting to discover the underwater world? If you can't think of an answer, we definitely recommend you try scuba diving. You'll be able to rent a suit and equipment and follow experienced people in the beautiful environment under the sea. Don't be afraid to take risks and get out of your comfort zone while doing this activity. You will always be safe and even if you feel uncomfortable or upset somebody will always be there to help. It's an amazing opportunity to discover otherworldly places. There are plenty of experiences to choose from all around Malaga. The finest places for this kind of activity are Estepona, Nerja, and Mijas.
Where can I go scuba diving?
For more information about Scuba Diving in the province of Malaga, click here.
6. Kite surfing
Kite surfing is another very popular water activity in Malaga. It looks quite challenging and that's because it might actually be at times. No need to worry though because once again you can learn more things while you're actually there. Those who organize these activities make sure to have a professional who is trained for these things. These people are always there, answering your questions about the techniques you should use, as well as the proper use of the equipment. Of course, you can rent your equipment there, if you don't have your own with you. As mentioned before, depending on the day, the waves might be quite challenging but practice makes perfect! Gear up and let's go!
Where can I go Kite Surf in Malaga?
You can find out more about Kite surfing in Malaga here and here.