The mountain range Sierra Nevada, Spain is situated in the South of Spain. More specifically it is in the Andalusian province of Granada and it is a massive natural wonder. With its 3000-meter high peaks, it is one of the most famous mountain ranges in Europe. What is more, the Sierra Nevada is full of various hiking trails and breathtaking scenery. The Sierra Nevada National Park is a popular tourist destination as it has something for everyone. As the whole of the natural park stretches over 850 square kilometers, to help you, we collected 16 of the must-visit and best trails for hiking in Sierra Nevada, Spain!
Difficulty level: very difficult hiking in Sierra Nevada, Spain
So these hikes and hiking trails are for the physically prepared people who want to discover and conquer the mountains! Usually, hikes of this difficulty require more time, sometimes even a day or two, so we recommend you take that into consideration when hiking in Sierra Nevada Spain.
1. Vereda de la Estrella
Distance: 21 km | Time: 7 hours
This is the most famous hiking track in the Sierra Nevada. Despite its difficulty, it is one of the most popular hikes in Granada. The view of the mountain range from this route is unparalleled. Here you can see the two of the top three highest peaks of Sierra Nevada, Alcazaba (3371 m) and Mulhacen (3479 m). The latter is actually the highest peak in the Iberian Peninsula, named after the king of Granada, Muley Hacén, who was buried under the mountain according to the legend. So if you have the time and energy, it is definitely worth a visit!
Keep in mind that it is a very physically demanding path and you should not visit it in winter or in bad weather. We recommend you visit it during summer so you can see the ever-present snow-covered fields. For preparation, we recommend you bring good hiking boots that you are already tried and are used to and prepare yourself physically for a long hike the days before. Also, bring a lot of water with you as there are few water fountains on the way.
2. Trevenque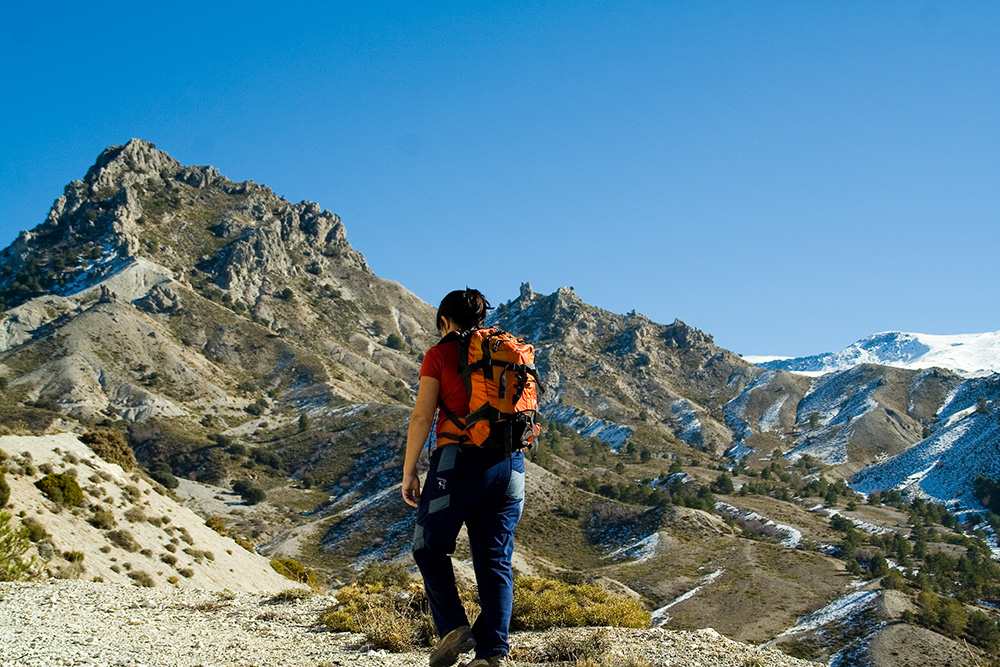 Distance: 16 km | Time: 5.5-6 hours
This route is a challenge because of the uneven soil (sand, rocks, etc.) and the steep uphill parts. Because the path is mainly on the sun, we recommend you visit it during the fall season. If you choose to take this trail, you will follow the valley of a river called Dílar. Also, once you reach the top, your struggles will be awarded a 360-degree view of the mountains and peaks such as Veleta, and the Sierra Nevada Ski Resort.
3. Trevélez – Siete Lagunas
Distance: 17 km | Time: 7 hours
This trail is a picturesque path that leads to a beautiful series of waterfalls on the top. Keep in mind that it depends on the season how many lagoons you can find here. Although some of the lagoons can dry up completely during summer and fall, you will definitely see Laguna Hondera, the first big lagoon on the way there. We recommend this trail for the physically prepared nature lovers who want to see luscious greenery mixed with beautiful natural water and breathe in the fresh air. Also, it is quite a long hiking trail so you maybe need more than one day to reach the end.
Pro tip: most often hikers stop at Siete Lagunas to camp before continuing up towards the peaks of Mulhacen and Alcazaba. Here camping is legal. So if you plan a longer hiking experience, you might want to stop and rest here too.
4. Sulayr Capileira – Trevélez
Distance: 19 km | Time: 7 hours
Capileira is a beautiful mountain village with whitewashed buildings and incredible views. This trail connects Capileira to Trevélez, two stunning villages in the region of Alpujarras. Warning: during winter you cannot climb this part of Sierra Nevada since the snowing makes it dangerous. During the summer make sure to bring a hat and sunscreen with you, and enough water so you only have to refill on the peak.
5. Silleta de Padul
Distance: 15 km | Time: 5 hours
Experienced hikers, you must try this route! It is a physically demanding path, so be aware of that! During the spring and fall season, you should definitely visit this trail, as in those times of the year the weather is more pleasant and you do not have to worry about the snow in the mountains. Once you made your way to the top, you are greeted with a 360-degree view of the flora and fauna and scenic mountains around you.
6. Cascada del Goterón
Distance: 15 km | Time: 10-12 hours
This beautiful hike resembling the fields and scenery of New Zealand is for experienced hikers only. Notably, it is physically demanding. However, without a doubt, it is such a unique and versatile hiking experience. Here you will pass the Siete Lagunas and then continue up, and after passing by some of the famous rock formations here, you will reach the Cascada del Goterón. This astonishing waterfall will not disappoint you. Wander around and if you have time, go above the waterfall and have a little picnic and rest at the magical green oasis there.
Difficulty level: medium difficulty hiking in Sierra Nevada, Spain
For this difficulty level, you should know your physical limits and decide accordingly. If you want to have a good time it is always better not to push your boundaries and instead choose an easier path! Thankfully there are plenty to choose from in the Sierra Nevada!
1. Beas de Granada
Distance: 16 km | Time: 10-12 hours
A day trip from Granada to see beautiful, rugged mountain views – what more do you need? Beas de Granada seems like a long hike with its 16 km, but don't be misled by that. It is a medium-difficult hike considering not only the length but also the lack of shades and water fountains on the way. So keep that in mind!
2. GR-7 Trevélez – Busquístar
Distance: 13 km | Time: 4 hours
For a convenient and relatively short hike, you can start your journey from Trevélez, a small village. The path descends to Busquístar, another small town. On your way there, you can witness the unparalleled beauty of the waterfalls and the whitewashed little villages. The best time to go on this hike is in spring. During spring, all the fields are covered in blooming flowers, painting the mountainsides in many colors. Make sure to bring water with you as there are no water fountains on the way.
3. GR-7 Busquístar – Capileira
Distance: 11 km | Time: 4 hours
If you still have some energy after reaching Busquístar, continue your way to Capileira. This trail is very special as it leads you through the region of Alpujarras, and many of its beautiful villages. And in the background, you can always see the ever-present mountain ranges. We recommend this route if you like to stop for water and food sometimes and see more of the rural living in Andalusia.
4. Los Cahorros
Distance: 8 km | Time: 2.5 hours
This is the fun track. This trail is between easy and medium difficulty, since it is a nice walk but also has its challenging parts that you must be aware of. You have to start the trail from Monachil, a village in the mountains, and then follow the river up the canyon. We recommend this route if you do not want to be too exhausted but also visit an extraordinary location that is full of trees, flowers, caves, waterfalls, and a charming river. If you are traveling with kids, we recommend this trail as it could be great fun for a family hike with older children! In the summer you can dip in the water and there is also a hanging bridge you can cross if you are in an adventurous mood!
Difficulty level: easy hiking in Sierra Nevada Spain
These easy hiking trails in Sierra Nevada Spain are for everyone! You can bring your family or friends for these hikes! Also, with these tracks, there might be alternative transportation too to reach the peaks of Sierra Nevada.
1. Pico de Veleta
Distance: 12 km | Time: 4-5 hours
Pico de Veleta is the second highest summit of Sierra Nevada, therefore a very well-known and popular hiking destination. If you start hiking from Hoya de la Mora, generally it would take about 4-5 hours to make it to the top. More importantly, it is a famous cyclist destination because Pico de Veleta is one of the biggest cycling challenges in Europe. It is the highest paved road in Europe and the altitude change is 2700 meters! Do not visit Pico de Veleta during the summer as the Andalusian sun can be brutal at this altitude.
Pro tip: If you do not want to miss out on Pico de Veleta because of the physically demanding route, we have some alternatives. Firstly, you can take a chairlift during the summer months. Secondly, since it is one of the highest paved roads in Europe, you can make the journey by car or by bus.
2. Cañada Sereno
Distance: 12 km | Time: 5 hours
Super fun, super easy family hike! This trail is long with 12 kilometers. But it is well-equipped for families, so you have benches and shades on the way where you can take a break and rest. If you want to do a family picnic you can also do that in an idyllic mountain setting there. Also, there is a water fountain so you do not have to bring a lot of water bottles with you. During the winter the road is snowy but for any other season, it is convenient and great.
3. Melegís – Reservoir
Distance: 4 km | Time: 3 hours
Between the village of Melegís and Béznar, you can discover the beauty of this Andalusian valley. The weather here is mostly mild throughout the year so you can always visit. The lakeside view is incredible and it will only make you appreciate the mountains in the background more.
4. El Chullo
Distance: 2.6 km | Time: 4 hours
If you want to hike from the province of Almeria, we have El Chullo for you. El Chullo is the highest peak in Almeria and the good news is that this track is an easy hike without any steep acceleration. Importantly, you have to start your journey from Puerto De La Ragua, a recreation center for skiing and mountain climbing. From there, you would have an easy way up the 2600 meters altitude. What is most important, is that as you are hiking up the mountain, you get an incredible view of Pico de Valeta and Mulhacen. And once you get on the top, you will have an amazing 360-view of Granada and the Almeria coast. For snow-covered mountain tops and hiking all year round, choose El Chullo.
5. Laguna de las Yeguas
Distance: 6 km | Time: 2 hours
For a very easy track, choose Laguna de la Yeguas. The best thing about taking this route is that you do not have to climb 3000 meters to get to the top – just take a ski lift! This makes the trip more pleasant and convenient, and it is great for families for this reason. Because of the transportation involved, this trail is only available during the summer when the cable cars operate. Try it and check out the astonishing views of Granada and the mountain ranges from above!
6. Rio Molinos
Distance: 6 km | Time: 2-3 hours
Rio Molinos is great for family hikes. You can come here all year round and during the summer period even dip into the cold mountain water. This area is filled with greenery and melted spring water from the Sierra Nevada. If you have a chance, you should visit Rio Molinos every season to see how the seasons change the scenery and the atmosphere. Altogether, it is a very pleasant and charming trail so if you want to connect with nature without doing an exhausting hike, visit Rio Molinos.
If you want to go camping while you are in Malaga, read more about camping in Malaga!