Feliz año nuevo! Remember this important phrase if you are planning on staying in Spain for New Year as it means 'Happy New Year'. There is a lot to learn about Spanish New Year's traditions. Spaniards are superstitious, particularly when it comes to the new year. If you want to celebrate like a local, there are some rules to follow.
The traditions and customs have prevailed for a long time and Spanish people look forward to them every year. From eating certain foods to wearing the right underwear – you can take part in a multitude of fun customs to feel like a local. New Year's Eve, called nochevieja in Spanish meaning 'old night', is an exciting time to spend in Spain. Get into the spirit and commit to the traditions in order to have an amazing and unforgettable celebration. Start the new year with customs that will bring you prosperity and luck in the following 365 days ahead of you.
Spanish New Year Traditions
There is a multitude of traditions Spaniards like to uphold around New Year's Eve and Day. The following customs are supposed to bring fortune, prosperity, good luck and love. These fun traditions are part of why staying in Spain over New Year's Eve is so special. They add to the magical feeling of the change of the year.
New Year Spain: Twelve Grapes
The most important New Year's Eve custom is eating twelve lucky grapes. The twelve grapes represent the twelve months of the year. They are eaten exactly at midnight. With every bell chime, one grape is eaten. This is supposed to bring luck for every month in the following year. It becomes a race against time as you have to eat them quickly to keep up with the chiming of the clock. All grapes need to be swallowed before the chiming ends. If you do not manage to do that, then supposedly you will not have luck in the new year. So you better hurry and stuff the grapes as quickly as possible in your mouth!
The grapes that are eaten at New Year's in Spain are usually green and rather small. Interestingly, only recently seedless grapes are available in Spain. Spaniards who do not manage to get their hands on seedless grapes, usually spend the last minutes before midnight removing the seeds. This whole procedure sometimes makes the situation more hectic and stressful which ultimately makes the custom more fun.
Red Underwear
If you are wondering about seeing a lot of red underwear in the shopping windows before new year's eve, this is related to a Spanish tradition. According to this tradition, you have to put on red undergarments on New Year's Eve if you are looking for love. Supposedly, Cupid will find you more easily if you are wearing red. Are you looking for love? Then go get something red and get Cupid's attention.
Toasting with a Glass of Cava
For toasting to the New Year, you will need a bottle of Cava. Cava is a kind of sparkling wine made of grapes from Spain. However, it is not only about drinking Cava. The custom is to put a golden object in the glass of Cava. The golden object which can be a ring or a coin, for example, stands for good fortune in the new year. Depending on the object you can wish for different things. Putting in a wedding ring will ensure fidelity. If you wish for love, then you should drop a red fruit like a strawberry in your glass of cava before you drink it. The glass needs to be finished completely after the toast otherwise the good luck charm will not work. Do not miss out on this Spanish New Year's Eve custom! It might just secure your good luck for next year.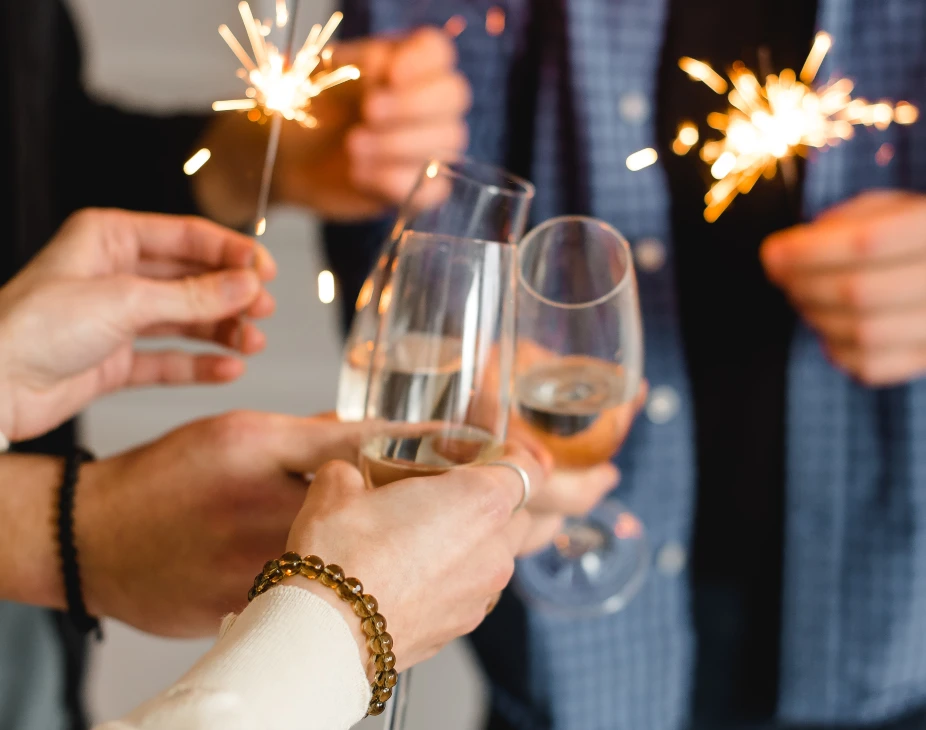 Start on the Right Foot
After the chiming of the bells at midnight, the first step in the New Year needs to be made on the right foot. This means literally on the right foot. Be careful to not use your left foot. Stepping into the New Year on your right foot will bring you luck, love and prosperity in this year.
However, some say that the first step into one's house is the one that counts. Others say it is about stepping out of the door on New Year's Day. Best to just stay on your right foot throughout all the New Year's celebrations in Spain.
New Year Spain: Activities
On New Year's Eve in Spain, friends and family gather to have a nice dinner together at home. In the background, the countdown to midnight is live broadcasted on TV all over Spain. While some people stay at home and have their grapes in their cosy environment, many people go out to a central square which has a large clock. Citizens then celebrate the change of the year altogether on the square while eating the grapes. Afterwards, people toast with Cava while enjoying the fireworks.
Probably the most famous place to be on New Year's Eve in Spain is Puerta del sol in Madrid. If you are looking for the biggest party in Spain, you should go there as thousands of people gather there every year to celebrate the new year. The atmosphere and energy there are incomparable to anywhere else. You will be able to share the ecstatic joy with all the people there as the celebration begins. People dressed up with wigs, masks and hats, confetti and streamers everywhere, and loud music transforms this square into a magical and amazing place. A marvellous and memorable time is guaranteed.
If you happen to be in the South of Spain for New Year's, you should join the Malaga Pub Crawl. A night full of party, music, dancing and celebrating is ahead of you. The tour guides will make sure that you are having the best time. For more details on the New Year's special check out https://www.instagram.com/p/CmWiSicojze/.
New Year Spain: Typical Food
Like other countries also Spain has some traditional foods regarding New Year's. Besides the grapes, the following two meals are probably the most important.
New Year Spain: Churros with Chocolate
After a night full of celebrating, the Spaniards are ready to indulge one last time before going to bed. They love to end the night on a high note, by having churros with chocolate. This is definitely the most delicious New Year's tradition in Spain.
Lentil Soup on New Year's Day in Spain
On New Year's day, the traditional food to eat at lunch is lentil soup or lentil stew optionally with chorizo sausage. The shape of the lentils represents coins. Allegedly, eating lentils will bring you good fortune in the upcoming year. If you are not superstitious, then at least the lentils will help you cure your hangover from last night's celebrations.