Discover the vibrant Valencia nightlife scene, where pulsating beats, trendy venues, and unforgettable experiences await. Are you ready to immerse yourself in Valencia's lively nightlife? This Spanish city offers a plethora of exciting experiences after the sun sets. Valencia has something to suit every taste, from energetic clubs to cozy bars and cultural venues. In this extensive guide, we'll take you on a journey through the city's most happening hotspots, ensuring you make the most of your Valencia nightlife.
1. Is Valencia Nightlife worth it?
Valencia is one of the most populated cities in Spain after Madrid and Barcelona, with more than 1.5 million people. Not only that, but it is well known for its vibrant culture, architecture, and traditional cuisine. The city comes alive after dark and offers a variety of activities to do. Valencia nightlife has it all, whether you seek a chill night out, energetic rhythms to dance off, a gastronomic journey through Spanish delicacies, or making unforgettable memories. Immerse yourself in the lively atmosphere of Valencia nightlife as we guide you through the city's hotspots. Take in the beauty of Valencia at night and follow the night vibes of the town! Valencia nightlife is not to be missed!
An important fact you should remember is that nightlife in Valencia starts late and can last till sunrise. Before moving on to night bars and clubs, you can start your night by trying typical tapas and drinks, such as local wines and craft beers.
2. The Best Neighborhoods of Valencia Nightlife
Valencia has many neighbourhoods, and each one of them has its distinct personality. We will go through the top 5 neighbourhoods for a memorable night out in Valencia, giving you an idea of what to expect from each one.
2.1 The Old Town or Ciutat Vella: A Historical Gem of Valencia
Ciutat Vella, meaning "Old Town" in Catalan, originates back approximately 2000 years. It is a neighbourhood of historical importance and hides an exciting nightlife with a medieval atmosphere. To begin with, it is listed as a Unesco World Heritage historic centre since it is a small city surrounded by a stone wall and narrow alleys. During day time you can admire the medieval town, but what's more, in Ciutat Vella you can experience Valencia nightlife to the fullest. From traditional Spanish taverns with their intimate ambience to lively bars with a list of unique cocktails, you'll find a variety of venues to suit different preferences. Get lost in Valencia's Old Town to experience the Spanish culture after dark.
In Ciutat Vella, you can find bars with live music performances, adding to the vibrant atmosphere of this neighbourhood. You can stroll around the most famous squares of Valencia's Old Town, such as Plaça de la Verge, where you can enjoy the impressive architecture of historical buildings like the Cathedral of Valencia at night. For an immersive experience of Valencia nightlife, visit Plaça del Negret, a delightful square home to many bars. Take a refreshing drink after exploring the beautiful alleys of this medieval quarter.
Valencia's Old Town offers a unique night experience combining history, culture, and a vibrant atmosphere. You will find an array of options to suit your preferences, whether you are up for a relaxing evening or an energetic night out.
2.2 Ruzafa: a neighborhood full of tapas bars and 'vermuterias'
Ruzafa, or Russafa, is a triangular neighbourhood next to the Old Town of Valencia. In the last decades, this 'barrio', as they say in Spanish, has gained a reputation as the trendiest area in the city, renowned for its vibrant nightlife. Although it doesn't have many sights to visit, it features a variety of tapas bars and vermouth bars, the so-called 'vermuterias'. It is the perfect neighbourhood for nightlife entertainment, especially among the youngest.
One of the main streets in Ruzafa to experience Valencia nightlife is Carrer de Sueca, full of restaurants and trendy bars. In contrast to the medieval Ciutat Vella, Ruzafa offers a combination of modern and cosmopolitan establishments, which creates a modern and diverse experience of Valencia at night.
Ruzafa also has several clubs that host parties and events throughout the week, featuring different genres of music, such as electronic, pop, and Latin rhythms. More specifically, there are nightclubs with many floors, each featuring an other music genre. In addition, Ruzafa hosts cultural events, art exhibitions, and live performances and, in this way, becomes the centre for a diverse crowd of locals and foreigners. Explore Valencia nightlife by strolling around the neighbourhood's streets, such as Calle de Cádis, Calle de Cuba, and Carrer del Literat Azorín.
2.3 El Carmen: Another medieval side of Valencia
El Carmen is another central neighbourhood of Valencia that has a medieval ambience. This district is famous for its sights like the Torres de Serranos and Torres de Quart. However, it is also renowned for its small alleys that feature a variety of cafes, restaurants, and bars that come alive at night. It is no coincidence that the El Carmen barrio has become a hotspot for locals and tourists looking to experience Valencia nightlife.
Explore this buzzing neighbourhood, sip a drink in one of its lively bars, immerse in Spanish cuisine, and dance in one of the best nightclubs in Valencia. Especially during the weekends, the atmosphere is lively and bustling, representing the vibrant Valencia nightlife completely.
Among the most famous streets of El Carmen is Calle Caballeros which is lined up with cozy bars and intimate pubs. You can find a variety of drinks, from craft beers to unique cocktails. If you want to have a bite before partying in one of the energetic nightclubs of the neighbourhood, you can try the traditional Spanish taverns and the famous tapas. Most establishments have outdoor seating, providing a perfect spot for a refreshing drink and socializing during the heat of the summertime.
In addition, you can find clubs and music venues that add to the experience of Valencia nightlife, offering different music styles such as electronic, rock, and reggae. The whole neighbourhood is packed with people every night, adding to the energetic ambience. You may be lucky and be in the city during a street party or cultural event usually organized during festive periods, like Las Fallas, a traditional Valencian festival. Valencia nightlife is at its best during these events, with streets filled with music and live performances. 
3. A Delicious Twist on the Valencia Nightlife
Valencia offers one of the best nightlife experiences in Europe. One reason for this could be because it supports the vibrant nightlife with delicious tapas. The nightlife experience in Valencia will surely be a memory to remember. But, you should never head for a night out on an empty stomach.
Immersing yourself in the city's delicious tapas culture is the only twist to complete a great nightlife experience in Valencia. In this section, we'll examine two different versions of tapas you can find in Valencia. It is up to you to decide which one fits your preferences better. Once you choose, nothing is holding you back from satisfying your taste buds.
Traditionally, tapas are made to be shared among friends and family. Spanish people take the saying "sharing is caring" very seriously and reflect this in their love of tapas. For locals, meeting to have tapas is a great way to get together with their friend group before going out to a party.
3.1 Traditional Tapas: Tapas Bars in Valencia
The tapas bars in Valencia are great choices if you want to get familiar with the traditional tapas flavours of Spain. In Valencia, tapas bars are often decorated with wooden furniture to accompany the conventional menu. The city's vibrant and lively ambience also shows itself in these tapas bars. You will be greeted with big smiles and see locals and visitors enjoying delicious tapas with friends and family at the bustling bar counter.
Patatas bravas and jamón ibérico are two of the most traditional tapas dishes you should try if you want to get familiar with the classical tapas culture. Patatas bravas is a traditional potato dish with a special sauce, and jamón ibérico is a form of dried ham collected from an acorn-fed animal. Examples of other carefully crafted dishes you can find at these bars are gambas al ajillo and pulpo a la gallega. The former is a special dish prepared with shrimp and garlic, while the latter is prepared with octopus, olive oil, and salt.
Most locals pair their tapas with a glass of wine or horchata -a special drink from Valencia- which turns tapas into a delicious way of pre-drinking.
One of Valencia's most traditional tapas bars is La Pilareta. Given that it has been serving for over a century, the venue is also a historic landmark for the city. La Pilareta is located near the Central Market of Valencia, and the menu focuses mainly on seafood tapas. The bar is famous for its speciality "esfarraet", which is a dish made of roasted peppers and salted cod.
3.2 Gastropubs: A Creative Twist on Traditional Tapas
If you are looking for a modern taste of tapas, gastropubs are the right places for you. Gastropubs adopt a fresh and creative approach to traditional tapas dishes. They often focus on using top-quality and fresh local ingredients. You'll be able to find innovative dishes that are presented beautifully.
In terms of architecture, Gastropubs adopt stylish pieces for decoration and implement an open kitchen. Overall, these pubs offer a trendy and social dining experience to visitors who are looking for more than traditional dishes. You can expect a diverse menu offering tastes that combine traditional and contemporary flavours, accompanied by an impressive selection of wines and cocktails.
Offering a unique tapas experience, Gastropubs are popular among locals and visitors alike. If you are curious about Valencia's evolving culinary scene and like to taste surprising flavours, you should definitely visit a gastropub and enjoy the creative dishes.
4. Valencia Nightlife: Live Music and Performances
Live music and performances have an essential place in Valencia nightlife. What's unique about the live performances in Valencia is that you don't need to be at a specific venue. Seeing a live performance at every corner of the city is not surprising. Performers often start their live shows very spontaneously, particularly in El Carmen. It is possible to see musicians, dancers, magicians, and other street performers in El Carmen.
The fact that Valencia is home to multiple dance companies and schools also contributes to the active atmosphere of the city. You can visit and see their shows at the stunning opera house, Palau de les Artis Reina Sofia.
In addition, Valencia also hosts multiple festivals and cultural events throughout the year. Live performances of musicians and dancers are also showcased in these festivals. The Fellas Festival, for example, combines street parades with music and fireworks. Other events like International Jazz Festival and the Mediterranean Music Festival also bring musicians and performers from various genres.
The live performances are not only displayed on the streets. The locals are very motivated to attend live performances. For the visitors, the live performances provide an enriching cultural experience and allow them to immerse themselves in the artistic side of Valencia.
4.1 Valencia Nightlife in Concert Halls
Valencia nightlife also includes concert halls that host live performances from every genre. The city has several concert halls, theatres, and music venues that host live music events. These venues are popular destinations for both local and international musicians.
From classical music recitals, orchestral performances, and soloist showcases at the Palau de la Música to the iconic Palau de les Arts Reina Sofia opera house to contemporary concerts at venues like Auditori de Torrent, there's something for every music enthusiast
4.2 Passion and Rhythm in Valencia Nightlife: Flamenco Shows
Valencia's approach to Flamenco clubs is "quality over quantity." In other words, the city has only a few Tablao Flamencos, but the performances at those places are breathtaking.
Some of the greatest Flamenco shows are hosted by Café del Duende, la Bulería, Casino Cirsa Valencia, Lalola, El Toro y la Luna, and Radio City. If you want to witness the passion of Flamenco, make sure you visit either of these venues.
4.3 Theaters and Performing Arts
In addition to street performances, live music, and flamenco, Valencia also offers a wide variety of historic and modern theatres. You'll be able to find performances from all genres, including classic plays, contemporary dramas, comedies, musicals, and experimental works.
Some of the most popular venues where you can immerse yourself in the performing arts in Valencia are the Teatro Principal, Teatro Rialto, and Teatro Olympia. The Teatro Principal may be the most popular one, given that its history dates back to the 19th century, and its architecture still carries a lot of elements from that time.
5.Clubs and DJs in Valencia Nightlife
Valencia nightlife offers countless venues and experiences for the ones who love to dance the night away. The city hosts a number of clubs and DJ sets which cater to all musical tastes. It is possible to find locations that play electronic, house, techno, hip-hop, reggaeton, and more.
The clubs in Valencia are also very diverse as well. You'll be able to find small clubs to large-scale ones with multiple rooms and stages. For example, there are intimate underground spaces, beach clubs, and rooftop clubs in Valencia. Each venue adopts a unique vibe with its own ambience and style.
Clubs in Valencia often open around 11 pm and tend to stay open until the first lights of the morning. This allows partygoers to enjoy an extended night of dancing and entertainment.
5.1 Electronic Music Clubs
Valencia is home to a thriving electronic music scene. The city hosts numerous clubs that offer a great nightlife experience to electronic music lovers. One of the most popular destinations is La3 Club, which covers genres like techno, house, and electro. The club is known for its diverse lineup of local and international DJs. Another famous venue of Valencia nightlife is Barraca, which hosts renowned DJs and focuses on techno and house music.
Oven Club comes to the rescue for those who are looking for a more intimate experience. Oven Club focuses on minimal and deep house genres, creating a cozy yet fun opportunity to enjoy electronic music. Akuarela Playa is another example of a club that offers a cozy experience. It plays a blend of electronic beats and a relaxed beach setting, offering daytime and sunset parties with a mix of deep house, lounge, and chill-out music.
Fayer, on the other hand, showcases cutting-edge electronic music, particularly house and melodic techno.
5.2 Latin Clubs:
You shouldn't forget about the Latin clubs when exploring Valencia nightlife. Salsa, Bachata, Merengue and Reggaeton are undeniably important parts of a nightlife experience in Valencia. Fitting to the friendly Spanish culture, these clubs offer a lively atmosphere where people can come together to dance and socialize.
These clubs provide a snapshot of the Latin culture and will allow you to immerse yourself in the groovy tunes. At the Latin clubs in Valencia, you'll find passionate dancers, friendly vibes, and pulsating music that create a welcoming space for all visitors from around the world.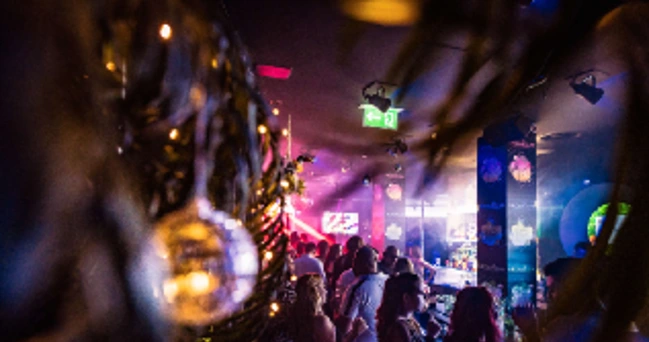 Valencia's Latin clubs vary. You'll find all kinds of clubs, from renowned venues that host live bands and international DJs to smaller clubs with cozy dance floors. Either way, you'll be impressed by the lively atmosphere in these clubs. So, grab your dancing shoes and enjoy joyful dancing in Valencia's Latin club scene!
5.3 LGBTQ+ Clubs
The friendly and welcoming culture of Spain shows itself in the LGBTQ+ clubs in Valencia too. Valencia prides itself on being an inclusive and LGBTQ+-friendly city, and Valencia nightlife completely reflects this openness.
One of the most popular destinations for the LGBTQ+ community is Deseo 54. The club stands out with its multiple dance floors, drag shows, and themed parties. In either case, Deseo 54 always provides an energetic atmosphere for those who love to dance. Another well-known choice, The Muse, stands out by the way it combines style and inclusivity. The club plays diverse music genres like pop, electronic, and Latin beats. Piccadilly Dance Club is a favourite destination for pop and chart hits with a lively dance floor.
If you are looking for a more intimate and cozy experience, La Boba y el Gato Rancio would be a good choice for you. The club regularly hosts drag shows and themed events. Another option for an intimate night out in Valencia could be Café de las Horas. Even though the venue is not exclusively LGBT, it still attracts a diverse crowd and offers a bohemian ambience with live music.
6. Unique Experiences in Valencia Nightlife
Having great tapas, dancing, and drinking are not the only aspects of Valencia nightlife. There are other activities you can try that offer a great experience at night time. Once the sun sets, the city's mesmerizing landscape invites visitors to wander through its ethereal beauty.
6.1 Nighttime Bike Tours
Nighttime bike tours are a great choice if you want to explore Valencia under the stars. You'll be gliding through the city's enchanting streets with a nighttime bike tour and enjoy Valencia's landmark venues under breathtaking illumination. With fewer crowds, you will be cycling through the charming alleys and the historic city centre, pass by the illuminated City of Arts and Sciences and ride alongside the tranquil Turia Gardens.
Nighttime bike tours will allow you to absorb the romantic ambience of the city. In the meantime, your tour guide will inform you about Valencia's rich history and culture. However, you don't have to worry about safety since the tour operators provide well-maintained bikes and all the necessary equipment. So, all you have to do is to enjoy this captivating journey, soaking in the beauty of Valencia after dark.
6.2 Rooftop Cinema
Another activity you can choose to do at night in Valencia is to go to a rooftop cinema. In there, you'll be able to enjoy your favourite films and some popcorn under the starry sky. The rooftop cinemas in Valencia will allow you to enjoy the ambient lighting and cool evening breeze.
In addition to a cozy and romantic atmosphere, Valencia's rooftop cinemas offer a unique and enchanting setting, combining the thrill of cinema with breathtaking panoramic city views. This elevates your movie night to new heights. With friends, loved ones, or fellow film enthusiasts by your side, a rooftop cinema in Valencia promises an unforgettable evening of entertainment and relaxation.
6.3 Night Markets
A third option for a relatively calmer nighttime in Valencia would be to go to a night market where you can eat, shop, and socialize. Valencia's night markets will allow you to immerse yourself in the lively Valencia nightlife while discovering different flavours.
There are more than delicious dishes and mesmerizing lights at the night markets. You will find local vendors showcasing their products, which include handmade jewellery, fashion, artwork, and more. In the meantime, you can enjoy the live music that fills the air, which adds more to the already festive ambience of the night markets.
7. Safety Tips for a Memorable Night Out
Even though Valencia is one of the safest cities in Spain, it is still important to be mindful of your safety while enjoying Valencia nightlife.
Here are some tips to ensure a memorable and secure experience:
– Travel in groups and avoid walking alone at night.
– Be cautious of pickpockets.
– Drink responsibly and know your limits.
– Use licensed taxis or reputable ride-sharing services for transportation.
– Familiarize yourself with emergency contact numbers and nearby medical facilities.
8. FAQs (Frequently Asked Questions)
1. Are there age restrictions for entry into Valencia's nightlife venues?
Most venues require visitors to be at least 18 years old. Some clubs may have higher age restrictions depending on the event or specific policies. It's advisable to check the age restrictions beforehand.
2. Is it necessary to make reservations for popular bars and clubs?
Reservations are not always mandatory but highly recommended, especially for popular venues or during peak tourist seasons. Making reservations ensures your entry and guarantees a seamless experience.
3. What is the dress code for Valencia's nightlife venues?
The dress code varies depending on the venue. While some places have a more relaxed atmosphere allowing casual attire, others may enforce a smart-casual or formal dress code. It's best to check the venue's website or contact them directly for specific dress code information.
4. Are there any safety concerns regarding Valencia nightlife?
Valencia is generally a safe city, but it's always advisable to take precautions. Stick to well-lit areas, avoid accepting drinks from strangers, and keep an eye on your belongings. If you're unsure about a particular neighborhood or venue, consult with locals or your accommodation staff for guidance.
5. Are there any after-hours venues in Valencia?
While Valencia doesn't have many official after-hours venues, some clubs may continue operating until the early hours of the morning. Keep in mind that these venues might have stricter entry policies or limited capacity.
6. Are there any rooftop bars in Valencia?
Our course! Here are the Best Rooftop Bars in Valencia: Top 10 List.
If you would like to get more advice on what to visit during your stay, here are 6 essential places to visit in Valencia. If, however, your time schedule is stricter, you can also read What to see in Valencia in one day: top 7 picks.
For more information about life in the city, you can always visit the official website of Valencia. Visit the EMT website to get informed about public transportation in Valencia.