Barcelona may be famous for its gothic architecture, well-known artists, the beaches, and mainly the summer vibes, but there is more to explore to experience the life and culture of the capital of Catalonia. Finding great spots for cheap tapas, tasty paella, and flavorful coffee is just as important as sightseeing. So let's explore together the top spots for the best coffee in Barcelona.
1. Nomad Coffee
Nomad is a coffee shop that started in London 12 years ago, and it has expanded all around the world including Spain. As a specialty coffee shop, it is dedicated to sourcing and serving the best coffee possible. The baristas here are knowledgeable and passionate. You can try here the best coffee in Barcelona in the Nomad coffee shop and lab, located only 7 minutes from the Arc de Triomf, near the neighborhood Eixample. Coffee lovers could even learn and see the process of brewing in their headquarters, Nomad Frutas Selectas in el Poblenou. The cafe may be small and with plain decoration, but the smell of roasted coffee in combination with baked goods and sweets compensates for sure.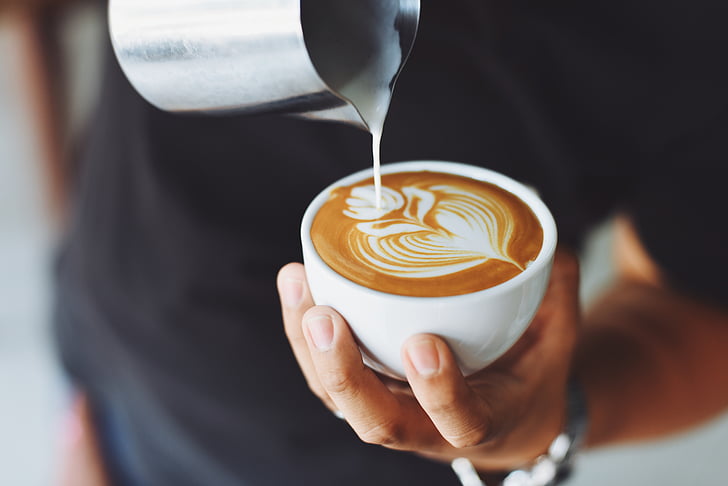 2. Three Marks Coffee – Best coffee in Barcelona
As the name reveals, this cafe belongs to three friends that have in common not only their name, Mark but also a passion for good quality coffee. In this cozy cafe, you can enjoy your coffee outdoors in the sun or indoors if the weather is not so good. There is a comfortable space to work upstairs, a small paradise for nomads, while in the downstairs area, customers can take a break from sightseeing and have one of the best coffee in Barcelona, with pleasant music in the background.
On their website, you can also check the variety of high-quality coffee that they are serving and even buy a package of their flavourful coffee.
3. Hidden Coffee Roasters
This hidden cafe offers specialty coffee in Barcelona with funky flavors that may impress you. The staff speaks excellent English and they are super friendly and more than welcome to explain to you the different types of coffee. A must-try is also their extensive cake collection and pastries. Another thing that makes this cafe so special is that it is vegan-friendly. On their website, they explain in detail the process and origin of the coffee beans they use. You can even order a package of coffee to be delivered to your home.
There are two cafes, one in el Born and one in Poblenou. Both of them are located near the seaside which makes them perfect for a break after a walk on la Barceloneta beach.
4. Satan's Coffee Corner
Are you an enthusiast for great quality coffee and tasty breakfast? Then you should get lost in the small streets of the Gothic Quarter and take a break in this cute cafe. Despite the name, this hippie-punk cafe offers a peaceful ambiance. There is no wifi, no plugs, no babies, just you and your hot or iced coffee. Yes, that's right! Here you can enjoy iced coffee, the perfect refreshment during summer. The baristas are professionals and will offer you the best quality coffee, with beans from different origins and flavors. Don't forget to try their breakfast. You can choose from yogurt with fruits, specialties with eggs to pastries, waffles, and their famous vegan brownie. The cafe is spacious inside, and also there are some benches outside.
It is a well-known spot so it might get crowded. Be prepared to go there on a day when you have flexibility in your schedule and enjoy the best coffee in Barcelona at this Satan's Coffee Corner.
5. ÖSS Kaffe – Best coffee in Barcelona
Near Plaza de Catalunya, in el Raval, you will find ÖSS Kaffe, a cafe that was first opened in Buenos Aires and is using till now specialty coffee roasted from Nomad. The area is known for its nightlife and maybe that is why this cafe opens early every day except on Monday, for hungover travelers. The interior design of the cafe will amaze you, and whether you are a person who dares to try crazy flavors or not, the strange flavors of the coffee will definitely surprise you. Furthermore, there is gluten-free oat milk and almond milk. This cafe is the best destination if you have a pet and you want to enjoy a hot or cold drink in a pleasant cafe with friendly baristas. Also, it is only 2 minute walk from the Barcelona Museum of Contemporary Art.
For those of you who are coffee lovers, there is this rumor that when you take a sip from their specialty coffee you will want more and more! I guess you will have to try to find out!
6. El Magnifico
This cafe is a family business that operates successfully since 1919. Of course, since then the quality and variety of coffee beans have been increased to satisfy everybody's preferences. They roast their coffee on-site and you can see the process behind the counter. Don't hesitate to ask for their advice and recommendation, the baristas are experts and friendly. Also, on their website, they have descriptions of the different origins of the coffee beans, and in 2019 they were offering coffee beans from over 18 countries. It is a perfect cafe for coffee on the go!
7. Syra Coffee – Best Coffee in Barcelona
Syra Coffee started in Spain not long ago, in 2015, with the main idea that drinking a cup of coffee is a good habit for everyone. This quaint cafe offers a carefully curated selection of specialty coffee from some of the best roasters in the world. To retain high quality they offer only coffee for take away and today there are 15 coffee shops in Barcelona. From pour-over to cold brew, Syra Coffee serves a variety of coffee styles to suit every taste preference. You should also try their freshly baked cookies. With its cozy atmosphere and focus on quality, it's no wonder Syra has become a popular spot among locals and visitors.
Some of the Syra coffee are located in central areas for instance the Syra Coffee-Sagrada Familia, Syra Coffee- Diputació, and Syra Coffee – Poble Sec.
8. Espai Joliu
This warehouse which was transformed into a beautiful cafe with vintage vibes and plenty of plants can be the perfect place for a romantic meeting or even to study or to work. It is pet friendly and it is located in Poble Nou. The baristas use the best quality coffee beans from Nomad Coffee. You can find here a variety of sandwiches and vegetarian options as well as gluten-free and lactose-free goodies. Their avocado toast is recommended while those who are more of a sweet tooth, may prefer the delicious cake and donuts. The place is comfy and cozy, there is free wifi for those who want to work or study. However, there is also a "laptop-free zone" for couples and friends who just want to enjoy their coffee. You can go around to check out and even buy some of the pottery, and plants, and also read one of their cool magazines and books.
This concept store will definitely amaze you and offer you such great vibes while enjoying your coffee and snack! There is a second cafe, Espai Joliu's sister, called Orval which has the same vibes and quality of coffee and it is less than 10 minutes from Arc de Triomf.
9. Departure Coffee Co.
Between the Plaza Universitat and the Barcelona Museum of Contemporary Art, you can find this cute cafe. As you enter the cafe, the wooden furniture will create a warm welcoming feeling. It used to be a carpenter workshop and the owner kept the concept by decorating the coffee tables accordingly. There is also artwork from local artists hanging on the walls creating great vibes. The coffee here is a must especially together with the avocado toast and their yummy pastries. You can find vegetarian options too and if the weather is good you better try to find a table outside since there are only a few seats.
10. Skye Coffee Co.
If you are up for something unusual and unique, you should make a stop at Skye Coffee Co. which is located near Parc de la Ciutadella. There is a silver van inside an old industrial building, more specifically an antique, a 1972 Citroën HY, that serves great quality coffee. If you love coffee then you should visit this relaxing and minimalistic cafe. The friendly staff and fast service make you want to go back again. Don't forget to smile and pose in this vintage cafe! It's a perfect place for photo shooting.
If you want to learn more about Barcelona read the article Things to do in Barcelona: 13 unmissable experiences and for accommodation read here. Also, check the article Digital nomad in Barcelona: finding the best accommodation.
Independent Barcelona Coffee Festival https://www.instagram.com/ibcoffeefestival/?hl=en