Friends is unquestionably one of the greatest sitcoms of all time. No wonder that in the space of 10 years, it became one of the most popular TV series in history. The now-classic sitcom debuted on NBC on September 22, 1994, with 21.5 million people tuning in for the show's first episode. The series centers around the story of six close friends and we get to see their everyday lives through 10 epic seasons. Each character has unique qualities and we wholeheartedly love all of them one by one. It's just one of those shows that never gets old or stops being funny. It lasted 10 years and 236 episodes, never dropping its standards. Friends went off the air in 2004. Read on to discover the Friends Filming Locations you can't miss!
The series is a traditional studio-based sitcom, set in Manhattan but filmed across the country in LA. Almost everything we see was shot at the Warner Brothers Ranch in California, however, there are some real-life NYC locations you can track down.
1. Friends Filming Locations: Find the Friends Apartment
The first location is the block where Monica and Rachel live across the hall from Joey and Chandler. Monica's apartment is one of the most used set pieces in the show. All six members of the main cast have, at one point or another, lived in the apartment. So many iconic scenes were shot in this apartment!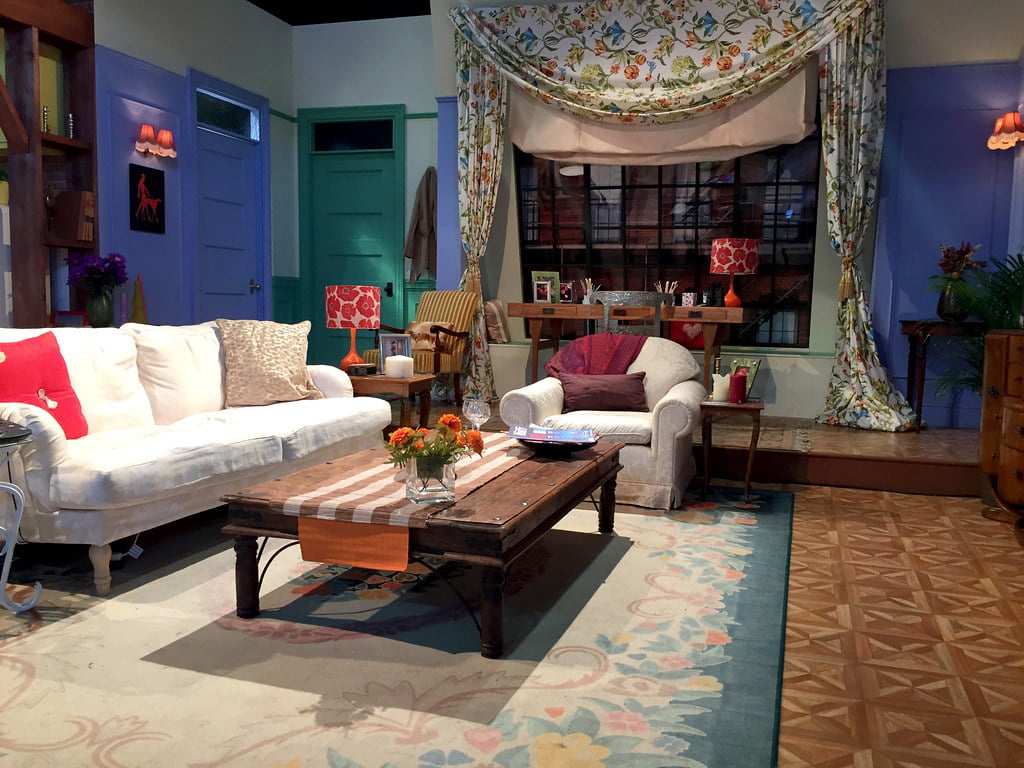 The apartments were, of course, recreated in a studio in LA, however, you can have a look at the block where exterior scenes were shot at a real building. It's at the corner of Grove Street and Bedford Street in the West Village. Furthermore, this means that Ugly Naked Guy, their strange, self-loving neighbor, lives on 19 Grove Street.
Just for the record, rent for a spacious 2-bedroom, even during the 1990s would have cost around $2,500 per month. Today, a similar apartment can cost up to $5,000 per month! Yes, that's per month and just for rent! Therefore, the writers behind Friends had to explain how Rachel and Monica could afford such a large apartment. So in one of the episodes, Monica reveals that she inherited the apartment from her grandmother and paid just $200 per month in rent due to rent-control.
2. Friends Filming Locations: Warner Bros Studio Tour
Who wouldn't want to see the original Central Perk and sit on the iconic orange couch? So, Warner Bros Studio is where most of the show was actually filmed and luckily the company offers tours to curious fans who like to get a true taste of Friends. Note, that this is not a 100% Friends themed set tour, but rather a studio tour that takes you to various sets including ones seen in Friends. The tour lasts approximately 3 hours in total: 2 hours guided, 1 hour self-guided. You can see the reconstruction of the Central Perk, the recreated sets of Joey and Chandler's apartment, and Monica's apartment.
Go to Los Angeles and fulfill your dream!
After the tour, you can shop at the Friends boutique and get exclusive products not available anywhere else, including kitchen and dining ware. Make sure to book your tour online in advance! (Link for the tickets to Warner Bros. Studios Hollywood Tour at the end of the article. Tickets start at $69 per person.)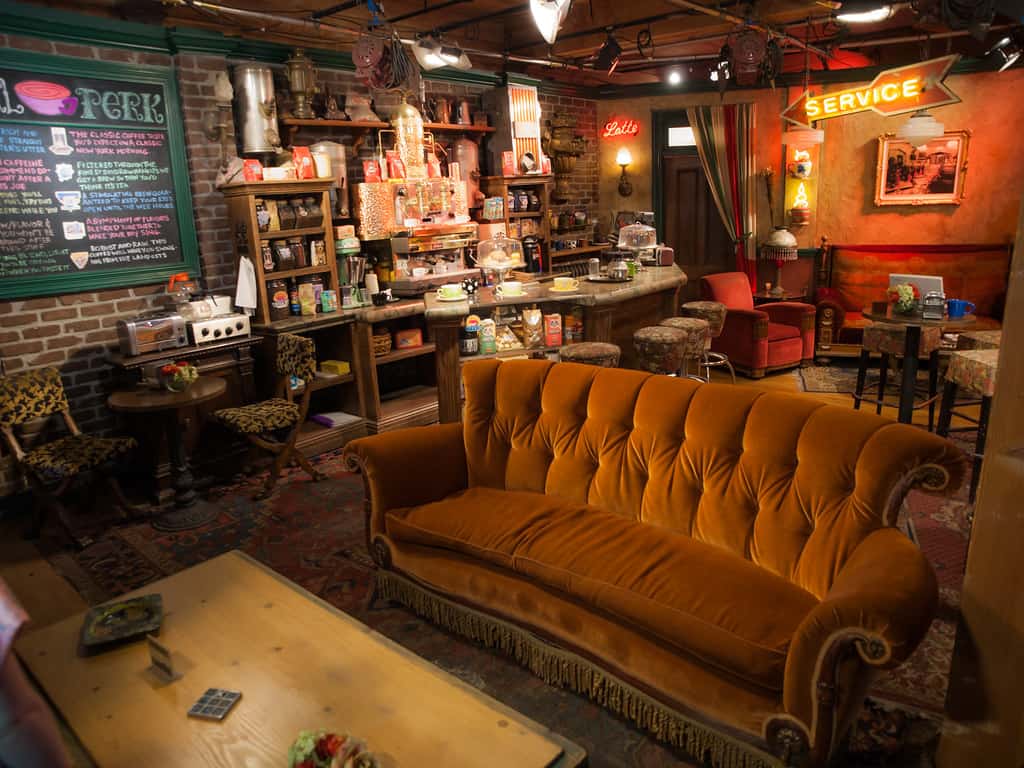 3. Friends Filming Locations: See the character's workplaces
Chandler
Do you remember where Chandler works? Well, if you can't quite name it, you're not alone. However, we do know that his office was in the Solow Building, a 50-storey corporate block with a view of Central Park. It's on West 57th Street, stretching 50 floors high with an impressive curved-out base.
Ross
The New York Museum of Prehistoric History, where Ross and Rachel had a romantic date under the planetarium stars is a fictional institution. However, it is the fictionalization of the American Museum of Natural History on the Upper West Side of Manhattan. Stop by there!
Rachel
You have to head uptown to get to Bloomingdale's where Rachel's career soared. Bloomingdale's has several locations in Manhattan, but if you want the authentic Friends experience, you need to check out the original store on Third Avenue.
Monica
Unlike Alessandro's and Javu, there was one real restaurant where Monica worked. Do you remember when she had to wear a horrible vintage dress paired with a blonde Marilyn Monroe wig? Yes, the restaurant is The Moondance Diner. It opened all the way back in 1933 and drew a lot of pop culture attention beyond its appearance on Friends. Unfortunately, the diner closed in March 2012 and a hotel was built in its place.
Joey
Now, it's time to list the last location that you can actually visit in the real world. Located in the city's West Village, the Lucille Lortel Theatre is an iconic landmark in New York City. In season three, you can see Joey performing in it. Do you want to feel like a Tribbiani fan? If so, stop by the theatre to see this season's best off-broadway shows!
Furthermore, do you remember when for one fun episode Joey worked as a perfume tester in a shopping centre? Well, that shopping destination exists too! It's Saks Fifth Avenue, a department store in Midtown Manhattan. Have a look at this ultimate upscale department store and keep your eyes open because you might spot some A-list stylists or celebs shopping here!
To book the Warner Bros. Studios Hollywood Tour, click here!
Also read our article about 8 places from movies and TV shows that you can see in real life.