We're back with some more to discover about sweet, beautiful Madrid. If you're planning to visit the Spanish capital and discover its alluring museums, parks, and streets, what more could be missing? Going out to try some typical Spanish food in Madrid after a busy day is just the icing on the cake. Taste the best of Spain's dishes after a tour of the Royal Palace, a long visit to the Prado Museum, or a stroll through the grand Parque del Retiro. We've thought about recommending you these 10 places where you'll be able to enjoy some delicious traditional food in Madrid, along with a good drink and right in the heart of the city!
1. Taberna La Fragua de Vulcano
Let's start with this super typical bar/restaurant that you will find close to Puerta del Sol and just right next to Plaza Santa Ana, at Calle de Álvarez Gato, 9. La Fragua de Vulcano has been open for more than 30 years. It serves, of course, Spanish cuisine, and in general a good variety of Mediterranean and European dishes. It's great if barbecue meat is your cup of tea. You'll also find other Spanish specialties such as paella, fried fish, and also some delicious desserts. Since it's also a bar, of course, you can order a fair range of drinks, from beer and wine to cocktails and liquors. Moreover, the menu also includes vegetarian options. If you go there, expect to find fancy interiors in the typical Spanish style, friendly staff, super reasonable prices, and catchy music that will make the perfect company during your meal!
2. El Barril de Las Cortes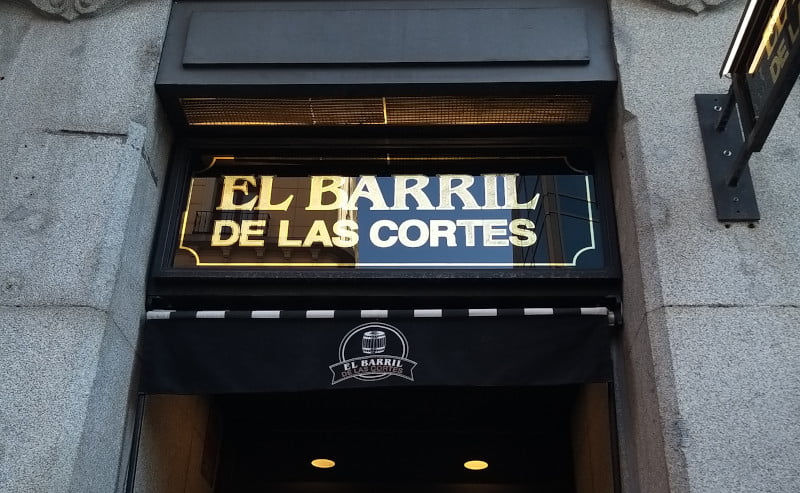 Moving on, another place that we suggest is El Barril de Las Cortes at Carrera de S. Jerónimo, 17. It's actually pretty close to the Prado Museum, so you could stop there for a bite before or after your visit. If you fancy some seafood, then this is the right place for you! The lunch and dinner menus are rich in options, from fried seafood to meat dishes and also vegetarian ones. However, you can also order takeaway if you're in a rush or too tired to eat out, though we recommend you to stay and enjoy the lovely maritime style and decorations. Definitely worth a try!
3. Mirador del Arco de Cuchilleros
You definitely shouldn't miss the Mirador del Arco de Cuchilleros. The restaurant is located in Cava de San Miguel 8, super close to Plaza Mayor. Stop there for dinner after your last visit of the day. You will love the place, with its cozy atmosphere and decorations as well as its mouthwatering menu. Here you'll find many traditional Spanish dishes such as the tortilla, croquetas de jamón, paella, and so on. There's also a wide range of appetizers and drinks you can choose from. It's a great place to enjoy a Spanish dinner with your travel buddies along with a good glass of wine. A delicious spot right next one of Madrid's most iconic places!
4. Spanish Food in Madrid: Cañas y Tapas
Another super recommended place for you to eat traditional food in Madrid is Cañas y Tapas. This lovely place is in Plaza Celenque 1, right next to the Reina Sofía Museum, so it's ideal if you want to stop there for a meal after visiting it. The place is cozy and nicely decorated, and it has the perfect atmosphere for a good dinner with your friends or family. The prices are super accessible, with an average of 6-9 € per dish, and the staff there is always ready to help. Here you can enjoy some delicious paella, croquetas, tapas, and more. The menu also offers great cocktails to accompany your meal.
5. Mercado de San Miguel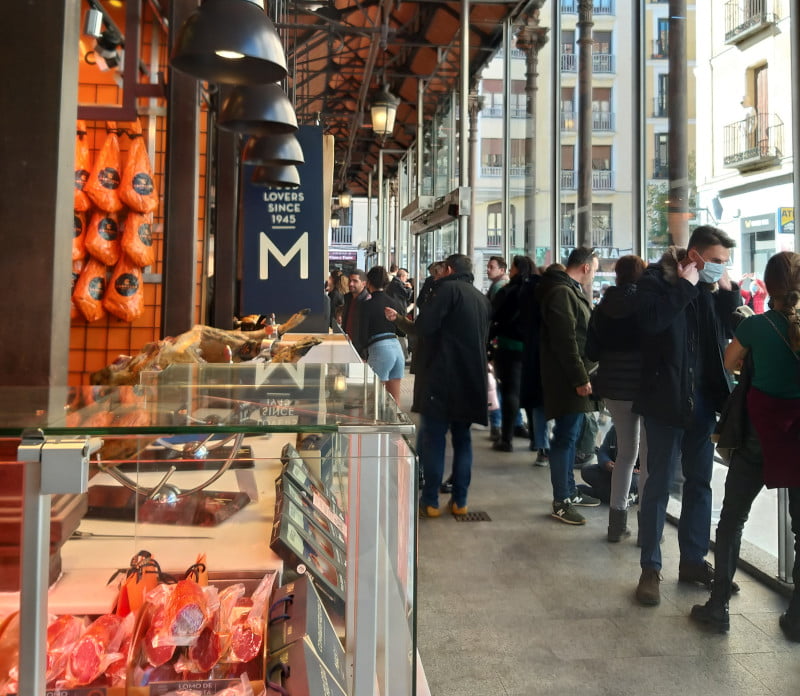 We couldn't avoid mentioning one of the best and most known places to eat some good food in Madrid. The San Miguel Street Market in Plaza de San Miguel is a gallery full of food stalls where you will find all kinds of products, from the jamón and other cold cuts, empanadillas, and many other Spanish specialties, along with lots of typical cocktails. You can go there and try so many different things at the same time, and transform one of your meals of the day into a fun gastronomic experience!
6. La Mi Venta
Another super recommended restaurant is La Mi Venta. Here they will offer you great local cuisine and it holds a lot of history. In fact, it was founded way back in 1962 and has went through a lot of renovation processes through the years, but it's still there today waiting for you in Plaza Marina Espanola, 7. There you will find spicy stews and meat dishes in general, as well as the traditional Spanish dishes. Get yourself a glass of vermouth and end your meal with a delicious dessert. An unmissable stop to savor some true Spanish gastronomic history!
7. Spanish Food in Madrid: Museo del Jamón
Next one on our list is Museo del Jamón on Calle Mayor. Here you can come for any meal of the day, from breakfast to late-night drinks. Obviously, the place's main specialty is the famous Spanish ham, the jamón, which you can try here in many different dishes. It's a great place for tourists to discover more about Spanish food, as well as for the Spaniards to enjoy their local dishes and have a nice night out.
8. Chocolatería 1902
The following place is located at Calle de San Martín, 2 and it's a lovely cafe. Chocolatería 1902's history dates back to more than a century and here you can taste some of the best churros and chocolate. Churros are part of the well-known traditional Spanish specialties and it's something that cannot miss during your stay in Madrid!
9. El Espejo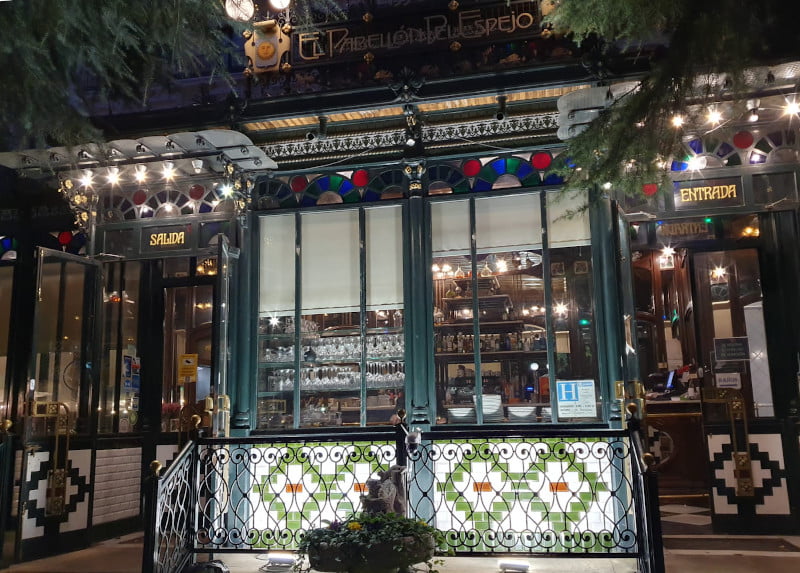 The restaurant El Espejo is the perfect place for vintage lovers. You will find it right in front of the National Library of Spain, at Paseo de Recoletos, 31. Its retro style will make you travel back in time and feel like you're having a drink in the first decades of the 20th century. What's more, there's a fun fact for Netflix lovers. This location was also used for the shooting of some scenes from Las Chicas del Cable (Cable Girls). You can't miss it if you're a fan of the famous Spanish show!
10. Spanish Food in Madrid: Mesón del Champiñon
And finally, we recommend you the Mesón del Champiñon at Cava de San Miguel, 17. Taste more of Spain's typical dishes and the house's specialty, the Portobello mushrooms! Try the delicious stuffed mushrooms and stay for a late-night drink to end your daily tour in the best way!
If you're trying to decide which one of these places to go to, you can maybe look up reviews on Tripadvisor.com and see which is the best for you!