Lisbon should be your next travel destination if you love old cities, amazing food, colourful buildings, cobblestone pavements, tasty red wine, century-old wooden trams and a lot of sunshine.
Lisbon is proud to be the continent's sunniest capital city, which makes it a perfect place for you to stock up on vitamin D any time of the year. Furthermore, after Athens, Lisbon is the second-oldest European capital city. Thus, wherever you go you can breathe the past of Lisbon and discover the history of this beautiful city.
So, read on and discover 8 things you can't miss in Lisbon!
1. The Tower of Belem
The Tower of Belem is definitely one of the most popular things to visit in Lisbon and it is an absolute must-see. It is a Unesco World Heritage Site for good reason!
It is a 16th-century fortification on the bank of the Tagus River and it served as a gateway to Lisbon. Many famous explorers like Vasco de Gama and Ferdinand Magellan set sail from Lisbon Harbour and passed by this majestic tower. The Tower of Belem protected the city from potential invaders but it also served as a state prison.
The great historical and symbolic value of this tower is undeniable. You must discover the halls, watchtowers and the bastion and learn more about the age of discovery.
2. Jerónimos Monastery
After visiting the Tower of Belem, you can immediately head towards the beautiful Jerónimos Monastery since it's just 15 minutes by foot.
Jerónimos Monastery is also classified as a Unesco World Heritage Site. It was built during the Age of Discoveries in honour of explorer Vasco da Gama. Jerónimos Monastery gives place to a delicate Gothic chapel, the Church of Santa Maria, and a beautiful two-story cloister. It is a true 16th-century architectural masterpiece.
Contemplate at the tomb of Vasco da Gama and have a peek inside the former monks' refectory, it is definitely well worth a visit. Admire the delicate stone carvings on the doorways and don't forget to look up at the amazing intricately carved vaulted ceilings either!
3. Try Pastel de Nata
Pastel de Nata (custard tart) is a true Portuguese speciality, therefore it is an absolute must-try. Probably Pasteis de Belém is the best place where you can try these fine sweets. This superb bakery is just a 3 minutes walk from Jerónimos Monastery and prepares heavenly sweets since 1837. The combination of crumbly pastry and rich egg custard made of secret ingredients is pure joy.
If you want to discover the culinary world of Lisbon, you must try these original treats.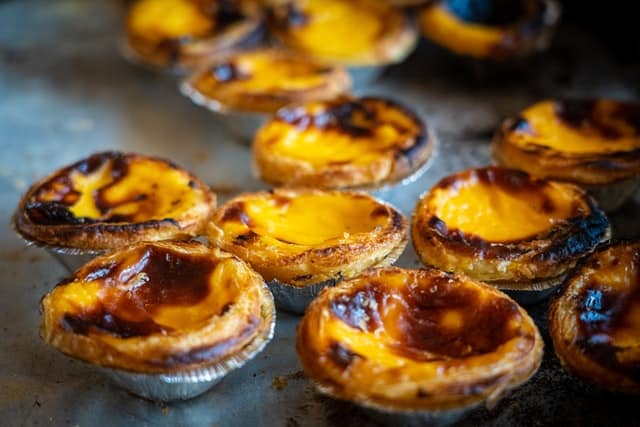 4. Ride Tram 28
It is truly iconic as the century-old wooden trams trundle along the narrow and steep streets of Lisbon. The mustard-yellow trams have such a unique and vintage charm that will make you want to hop on and ride until the final stop. Tram 28 goes past many sights and lovely neighbourhoods. Today it has a 7 km route and the constant rattling of the tram now forms an integral part of the city. You can take the tram up the steep Alfama Hill and then stroll back down exploring the gorgeous historic district.
These small yellow wagons are true time capsules.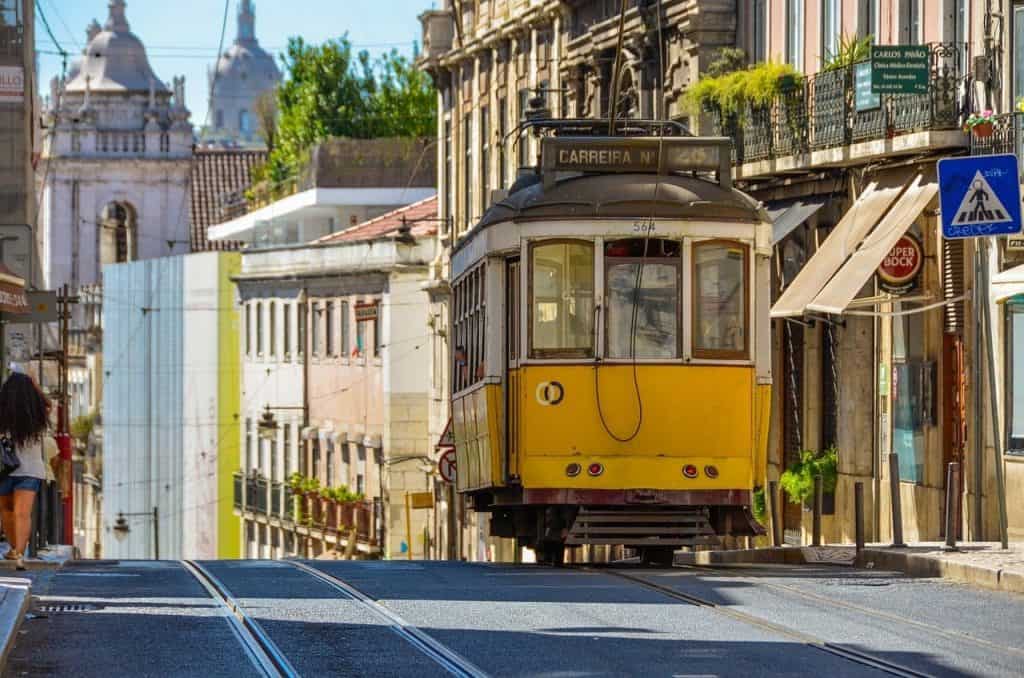 5. Explore Alfama
Visiting the picturesque district of Alfama is a must. You can wander along narrow, cobblestone streets and admire gorgeous historic buildings, romantic alley ways and lovely street art. Little restaurants, quaint shops, traditional clubs and coffee shops are everywhere, spreading a nostalgic atmosphere. Take your time and walk slowly through the narrow and winding streets. Enjoy all the sounds of local life and smell the breath of old Lisbon.
Alfama is full of charm and cosiness, you'll love every detail of it.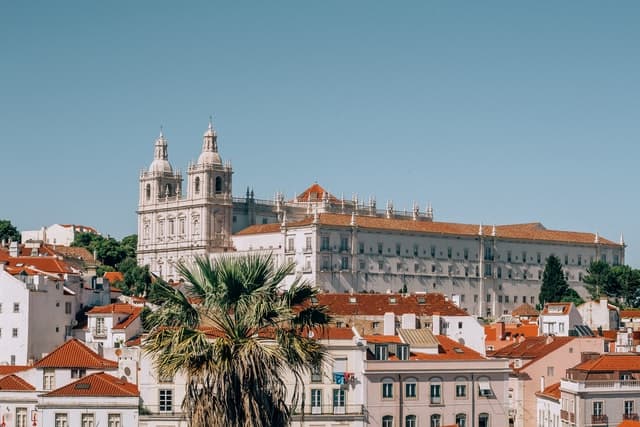 6. Drink Ginjinha
Ginjinha is a typical Portuguese liquor made from ginja berries (sour cherry). It is a rich, sweet alcoholic drink and the favourite liqueur of many Portuguese. They add sugar and other ingredients such as cloves or cinnamon sticks to achieve its unique flavour. The Ginjinha bar on the Sao Domingos Square was the first place in the city that commercialised this sweet drink. Now this traditional liqueur is so popular that they even export it to the United States!
It is served in a shot form with some pieces of cherries floating in your cup. Bottoms up!
7. São Jorge Castle
Sao Jorge Castle is located on the highest hill of Lisbon in the district of Alfama and it is one of the most iconic landmarks of the city. This medieval castle is proud to have eleven towers and it even gives place to a small museum. It also houses a camera obscura with a giant periscope that allows you to have a 360º panoramic view of the city of Lisbon. The castle was a fortification for the Romans, Visigoths and the Moors and later on it served as a royal palace.
It is truly astonishing when illuminated at night and you can see the silhouette of the castle outlined. Visit this amazing castle if you want to expand your historical knowledge or want to have a breath-taking view over the city.
8. Visit the Oceanarium
Many people refer to this Oceanarium as Portugal's largest indoor aquarium. It was opened in 1998 and it is the biggest indoor aquarium of Europe. The diverse selection of marine life amazes every visitor. Discover exciting species and explore the native flora and fauna of four different habitats: the North Atlantic coast, the Antarctic coast, the Temperate Pacific forests and the Tropical Indian coral reefs.
Spend your day among penguins, seagulls, sharks, rays, chimaeras, seahorses and many other species of exotic animals. There are truly impressive and unforgettable exhibits and you'll definitely spend far more time here than expected.
If you are interested in 5 must-see cities in Spain, click here.