Can you imagine the beauty of white-washed houses and colourful flowers embedded in gorgeous mountain landscapes? Well, you simply cannot leave the city of Malaga without visiting any of the charming pueblos blancos (white villages) in the provinces. Over the centuries, they could maintain the typical traces of the Moorish era of Al-Andalus which makes them extremely charming. Just imagine strolling down a narrow, cobblestoned street where the windows and balconies are full of flowers that contrast with the white walls of the houses. It is impossible not to fall in love with these charming villages! They are all within easy reach from the city of Malaga and so provide a perfect day trip possibility for you. If you are having troubles deciding which ones to visit, here goes our list of recommendations.
White Villages Near Malaga
1. Mijas
Mijas is one of the most beautiful villages to visit near Malaga. It is a wonderland of lovely white-washed homes, romantic narrow passageways and colourful flower pots. Mijas, perched on a beautiful mountain, is located to the west of Malaga. It has a typical Andalusian architectural style and magnificent views over the Costa del Sol.
There are uncountable charming corners to visit in Mijas, however, I would like to highlight a few: Plaza de los Siete Caños, Calle Coín, Plaza Virgen de la Peña or Los Jardines de la Muralla for example are absolutely unmissable.
Mijas is also known for being the town of donkey-drawn carts (burros taxis) and donkey-back rides. These lovely creatures have been used as working animals, but back in the 1960s, tourists started to stop farmers on the road to take photos with them. And eventually it became quite popular. Do I recommend to have a donkey-back ride though? Absolutely not. Unfortunately, these docile animals are victims of carrying too heavy loads in the village (there is no weight limit imposed on them). Therefore, many of them struggle from chronic leg problems and their skin is bunched up against the leather. So please, don't increase their pain by riding them.
Interesting facts
Did you know that the Cathedral of Malaga was built with marble from Mijas?
Did you know that Mijas has one of the largest British colonies in Andalusia?
2. Casares
Casares is a true picture postcard village surrounded by stunning scenery and a calm rural ambience. Perched on a mountainside close to the Sierra Crestellina National Park, Casares is one of Andalusia's jewels. The village has important heritage exhibitions and beautiful attractions like Castillo de Casares and Iglesia de la Encarnación.
It is another world away in atmosphere and beauty.
Interesting facts
Did you know that Casares has earned the nickname of the "Hanging Village"? It is due to the fact that the houses kind of pile up on each other as you climb your way through narrow, winding streets to the top of the mountain. On the very top of the ridge, approximately 1,400 feet above sea level, sits a 12th century gorgeous Moorish castle providing marvellous panoramic views.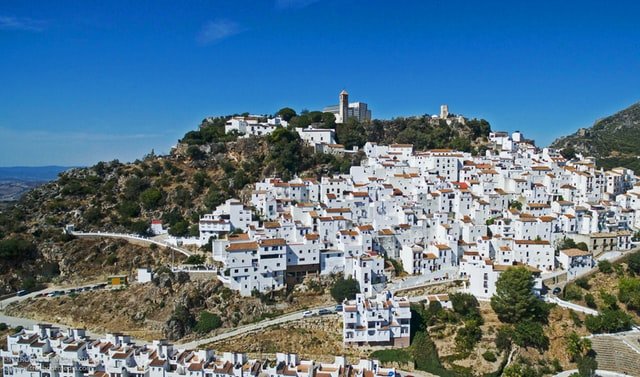 White Villages Near Malaga
3. Frigiliana
Frigiliana is a picturesque little village tucked in the hillside of the Andalusia Coast. You can spend some amazing time here marvelling at the beautiful narrow streets with their colourful doors and pot plants. Embedded in a magnificent rural and natural environment, Frigiliana is without doubt one of the most charming villages in Andalusia. If you are near Nerja, it is certainly worth going up to Frigiliana since it is only a 15 minutes' drive from the coastal town.
Frigiliana may be small but there are endless stories, backstreets and unique places to explore throughout the village. Are you curious why this town received awards for its beauty? You have to see it for yourself!
Interesting facts
Did you know that the only extant traditional molasses (cane honey) factory in Europe is in Frigiliana?
4. Ronda
Ronda is one of the most visited and beautiful villages in the province of Malaga. Moreover, many people think that it is the most magnificent place in Andalusia! Set on a rocky massif pierced by the Guadalevin River Gorge, this town is loaded with beauty, history and culture. It has fabulous views and countless photo opportunities. So be sure to come to this lovely town with your camera fully charged!
Interesting facts
Did you know that Ronda is home to Spain's oldest Bullring? Well, not only is it the oldest but it is definitely also the most beautiful and majestic in the world.
5. Comares
Comares is undoubedly a unique village. Its deep-rooted history and its strong traditional ties make it one of the most special hidden gems in southern Spain to visit.
It is a fascinating village to walk around and the views of the surrounding landscape are spectacular too. As you are walking down the streets you will notice that the Arab influence is quite heavy in both the architecture of the village and its street plans.
If you are looking for a place that provides incredible views of the Axarquía region of Malaga and has amazing historic architecture, Comares should be your pick. Furthermore, it is often overlooked by tourists so you may have the village all to yourself without the crowds!
White Villages Near Malaga
6. Villanueva de la Concepción
Villanueva de la Concepción is a handsome hill town filled with whitewashed houses, winding streets, rambling passageways and ornate village squares. It is embedded in a beautiful agricultural setting which is devoted to cereal, almond and olive production. The main attraction of this area is the El Torcal Natural Park renowned for its unique limestone formations.
Moreover, there are plenty of places to see and visit around Villanueva De La Concepción. If you love hiking or cycling, this region is a perfect starting point from where you can plan your next adventure.
Interesting facts
Did you know that Villanueva de la Concepción holds one of the oldest festivals in the province of Malaga? It is called the Verdiales festival which is a manifestation of Malaga's peasant culture.
7. Estepona
Are you craving for a place that combines the beauty of Andalusian pueblo blanco style with some of the best beaches and sea views? Look no further, because Estepona has it all!
Estepona boasts one of Andalusia's prettiest old quarters as well as some of the best beaches and seafood restaurants of the province of Malaga. This lovely town is a maze of winding streets with white-washed houses showing hundreds of colourful flower pots hanging from their facades.
You will fall in love with this charming town!
8. Antequera
Located in a fertile river valley with olive groves and fields of sunflowers, this medieval town just could not be any prettier. It also boasts a collection of one of the largest and most important prehistoric burial sites in Spain, dating from the Bronze Age.
In addition, Antequera has great climbing and walking attractions nearby waiting for you to be discover.
Interesting facts
Did you know that near Antequera lies one of the largest natural lagoons in Spain? There is a big salt lake surrounded by olive groves that makes a perfect habitat for pink flamingos. During the springtime, you can see migrating birds return from Africa and by mid-March you can marvel at beautiful wild flamingos enjoying the water. Take binoculars with you if you can or borrow some at the information centre.
White Villages Near Malaga
9. Gaucín
Gaucín is is a sleepy, laid back town with sweeping views to Gibraltar and North Africa. The village also has particular historical relevance. During the years of the Reconquest its castle, the breathtaking Castillo del Águila (Eagle Castle), was a crucial strategic point. Its location made it practically impossible to breach and it proved to be one of the most difficult fortresses to conquer in the struggle between the Christians and the Muslims.
The houses of this white-washed town are boldly decorated with grilles and its balconies are crafted from wrought iron. Pine, olive and orange trees give a beautiful frame to the village making the scenery astonishing.
White Villages Near Malaga
10. Iznajar
Iznajar is proud to have a unique location overlooking the largest lake in Andalusia. The houses are arranged around a medieval fortress which is a fascinating historical point of interest. One of the best things to do in Iznajar is visiting Patio de las Comedias which was the marketplace of the village in the medieval period.
Swimming, sailing and rentals of kayaks are just some of the activities available nearby.
Iznajar may easily be one of the prettiest pueblos blancos that you will visit in Andalusia. It is a true step back in time! Make sure to add this enchanting inland white village of Iznajar to your list!
Before you go, make sure to check some of the official pages of the above mentioned villages:
Mijas (only in Spanish)
Casares
Frigiliana
Ronda
Comares
Estepona
Antequera
Villanueva de la Concepción
Gaucín
Iznajar
In addition, make sure to also read about the best photo spots in Malaga and its province HERE!