Due to its location in the centre of Andalucia, Malaga is a popular destination for young students as well as tourists. It is known for its beautiful beaches and rich cultural history. However, the city, located on the Mediterranean coast, is also famous for its unique nightlife. While big Spanish cities like Barcelona and Madrid have a higher number of clubs and bars, the nightlife in Malaga has its own special yet cool vibe.
As Malaga has one of the largest university campuses in Andalusia and many language schools, there are a lot of young and hip people making the city particularly vibrant. Especially, students from abroad love to do their Erasmus semester in Malaga. This influences Malaga nightlife as everything is more affordable and student-friendly. Nevertheless, Malaga's nightlife is not less wild than the nightlife in Barcelona. You can enjoy a chill night and traditional tapas in Tapas Bars, drink fancy cocktails in rooftop bars, as well as dance the night away in stylish clubs. There is something for everyone in Malaga!
This guide will show you the best places to go to at night in Malaga. We will share with you the best tapas places, bars and clubs. So no matter if you are looking for a chill night with friends and tapas or a night full of music and dancing until sunrise, we have got you covered. Get ready for an unforgettable night in Malaga!
What is Malaga nightlife like?
Every young party-seeker will be ecstatic in the Capital of the Costa del Sol. Walking through the busy streets of Malaga at night, you will come across locals as well as young expats enjoying tapas, drinking beer or traditional vermouth in various bars, listening to music and taking in the beauty of Malaga.
Since the night really only starts rather late in Malaga, people pre-drink at home before going out. Afterwards, they head to tapas bars, pubs, or other taverns. After midnight people start heading to the clubs. However, the nightclubs only start filling up at around 1 am. Do not worry though! You will have enough time to dance! Most nightclubs close at around 7 am, so there is plenty of time to shake off and have a good time.
Since the nightlife in Malaga starts late and only ends in the early morning hours, it might seem difficult to hop from bar to bar. However, most clubs and bars are in the old town of Malaga which means they are within walking distance. And even if you do not live in the centre, Malaga has a good public transportation system to take you wherever you want to be.
Is Malaga nightlife worth the hype?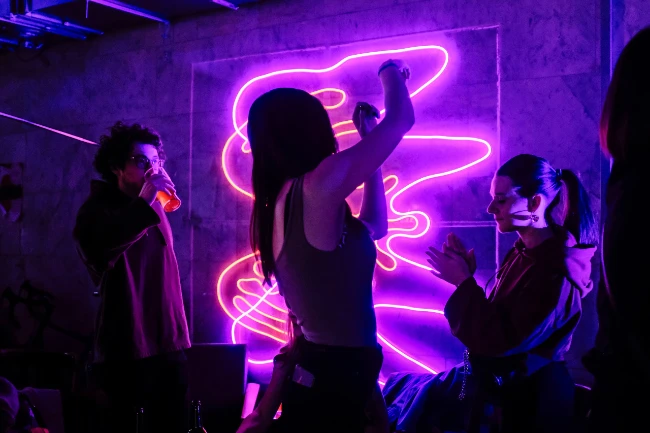 Malaga nightlife is vibrant, diverse and fun. There is a place for everyone. No matter if you are a reggaeton fan, a techno-lover or like to sing along to your favourite underground, alternative and rock songs, Malaga serves to your taste. Moreover, the lgbtqia+ community has gained more representation and visibility in recent years. Hence, there are more gay bars in Malaga now.
In Malaga, you can party hard, just enjoy some beers or get some delicious tapas. From relaxed and laid-back evenings to intense partying and dancing, you can choose whatever fits best to your personal preference.
Depending on your mood every night can look different in Malaga. Malaga's unique nightlife is never boring and always ready to make your night unforgettable!
The Best Places to Party in Malaga
In the centre of Malaga/Centro Histórico, you will find the biggest quantity of bars and clubs. Around every corner, you stumble upon another cool place. If you want to save money come early, as many places offer happy hours. Furthermore, within the centre, there is a wild mix of interesting people from all over the world. Locals, Erasmus students, expats and tourists all come together in the centre of Malaga to have a good time.
Another amazing neighbourhood for partying is La Merced. It is within walking distance from Centro Historico and has plenty of Discotecas and bars as well. La plaza de la Merced is always busy, and the drinks and tapas are usually a little bit cheaper than in the centre of Malaga. Check out Calle Carreteria and Calle Alamos for partying, as there is a considerable amount of famous clubs and bars!
Especially in the summer, you should not miss out on the excessive parties at Malagueta, the beach neighbourhood. Here you find plenty of rooftop bars, tapas bars, cocktail bars and beach bars. Due to the charm of the beach and the sound of the waves, you should include a stop there on your night out in Malaga. Moreover, it is also very close to the Centro Historico in Malaga so it is easy to walk to the beach if you fancy a drink at a beach bar.
Teatinos is where you will find the local students as it is close to the University campus. Teatinos has plenty of nice and cheap bars. It is a little bit further from the centre but definitely worth the trip. If you live in the centre, you will have to take the bus to go there. In Teatinos, you will have the chance to party with locals which will make your night even more unique and special.
The Best Party in Malaga – Pub Crawl Malaga
Are you looking for the best party experience in Malaga? Then you should join the Malaga Pub Crawl! Every night you have the chance to enjoy the best bars and clubs of Malaga with lovely people. 2 bars and 2 clubs are included and you will enjoy free drinks as well as VIP entry without waiting in any queues. The best part is you can experience Spanish nightlife with amazing like-minded people, and good music while the tour guides make sure to lead you to the best places so you can just follow and enjoy your time without having to think about where to go next.
The Malaga Pub Crawl is the best way to experience Malaga nightlife. Meet amazing people from all over the world. Travellers, students, expats and digital nomads all looking for the same thing: the best time and memories that will last a lifetime! Come and join us while exploring the nightlife in Malaga! We look forward to meeting you, dancing with you and showing you how to party in Malaga.
Malaga nightlife: The Best Tapas Bars
The best way to start a night out in Malaga is by going to a Tapas bar. There you will be able to try traditional Spanish tapas as well as drink some wine or beer alongside. Here are three of our favourite Tapas Bars in Malaga. From traditional to vegan tapas, Malaga offers something for everyone. Sit down and enjoy the delicious food and start your night out the right way: the Spanish way!
La Tranca
La Tranca is the most famous tapas bar in Malaga. On the inside, there are beautiful tiles as well as a lot of pictures on the walls. Combined with the dark wood, the place looks very traditional and eclectic but still charming. La Tranca offers traditional tapas like meatballs and croquettes but also some vegetarian and a few vegan options. This place is a must if you want to get a feeling for Malaga nightlife and traditional Spanish tapas in an old-style Spanish environment. Feel like a local at La Tranca and enjoy some good tapas and a small beer or Vermouth!
Location: Calle Carretería 92
La Vegana
If you are a vegan, a vegetarian or just want to try something new, you should go to La Vegana. This is the best place to go for vegan tapas in Malaga. You can sit inside the white wooden and bright bar or sit outside and enjoy the tapas outside in a typical busy Spanish alley. Start your Malaga nightlife experience here with delicious tapas and a glass of wine!
Location: Calle San Juan de Letrán 13
El Beato
A quaint little tapas place with delicious freshly made tapas is El Beato. The tapas are cheap and authentically Spanish. They also have a cute seating area outside which we definitely recommend. At El Beato, you will mostly come across locals which makes this place even more authentic and lovely to visit. Our special tip is to try the Sangria there!
Location: Calle Beatas 3
The best Bars in Malaga
After enjoying some tapas with a small beer or some wine, locals usually move on to go to a different bar. Whatever kind of Bar or Pub you crave, Malaga has something that will be to your taste. By now the sun might be down, but it is probably still too early to go to a club. Here are some of our favourite places to go to either before moving on to a nightclub or even staying there for a fun night at a bar or pub in Malaga.
The Best Bar for Students in Malaga nightlife – Camden Lock
If you are a student or an Erasmus student in Malaga, check out Camden Lock in the centre of Malaga. At Camden Lock, it is never quiet. This busy place serves really cheap drinks with a casual Pub atmosphere. A good time is guaranteed as you can always find nice people to talk to, play a fun round of foosball or watch a soccer game on one of the big screens. No matter what day, Camden Lock is always full of young people looking for a good time and enjoying themselves.
Location: Calle Convalecientes 4
The Best Bar in Malaga Downtown – Sala Premier Centro
Sala Premier in the centre of Malaga is a great place for a good beer. They have a wide selection of beer from all over the world but also serve local beer. If you like to try a new type of beer, are a beer enthusiast or just like a place with a casual vibe, you will love Sala Premier. Don't worry if you are not a beer lover, they also serve wine, other cocktails and non-alcoholic drinks. This place is very big with two floors and a big outside seating area as well, which means you will usually find a nice place to sit there. Do not miss out on this special place when you are on a night out in Malaga!
Location: Calle Molina Lario 2
The Best Cocktail Bar – Mañana Cocktail Bar
The lovely two brothers who own the Mañana Cocktail Bar are not only very friendly and welcoming but also mix the best Cocktails in Malaga. Step into Mañana Cocktail Bar to enjoy a delicious drink in the casual atmosphere of this place. If you are lucky, the owner's dog is there as well and ready to be petted by all the lovely customers. There are only a few seats outside, but these are definitely the best particularly if it is warm outside because you can enjoy the vibe of a small and cute Spanish alley.
Location: Calle San Juan de Letrán 7
The Best Cubs in Malaga nightlife
Between 1 am and 2 am, it is finally time to go to one of the many nightclubs in Malaga. Leave the cosy bars behind and shake off in one of the best clubs in Malaga. Depending on your mood and favourite genre of music, Malaga serves to everyone's taste. From Pop and Ragggaton to Electronic and Techno music, Malaga nightlife provides party seekers with a variety of Discotecas playing a wide range of music styles.
The Best Spanish Club – Discoteca Anden
One of the most famous clubs in Malaga is Discoteca Anden. This busy club is popular for many reasons. Discoteca Anden located in the centre of Malaga plays the best Reggaeton music, serves good drinks, and has multiple rooms and laser lights. If you look for a fun night out with typical Spanish reggaeton music and a great crowd, you will have an amazing time at Discoteca Anden. Experience the real Malaga nightlife, and dance and party in Discoteca Anden!
Location: Plaza de Uncibay 8
The Best Alternative Club in Malaga – Velvet Club
Do you prefer Alternative music? Are you up for any music as long as it is not mainstream? Then you will love Velvet Club in the centre of Malaga. Indie and Rock bands regularly play live on stage at Velvet Club. This place is full of interesting and alternative people who want to have a fun night with good music. Rock, Indie, Funk and DJs liven up this special place at night. Visit Velvet Club Malaga for an unforgettable night and experience a different side of Malaga nightlife – outside the mainstream.
Location: Calle Convalecientes 11
What are you waiting for? Go out and enjoy your night in Malaga! Discover new places on your own or join the Malaga Pub Crawl for the ultimate party experience in Malaga!
If you want to know more about official upcoming events and festivals in Malaga, check out https://www.malaga.eu/la-ciudad/agenda/.